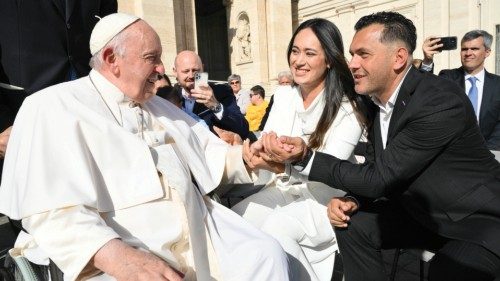 19 ottobre 2022
All'udienza generale di mercoledì 19 ottobre, in piazza San Pietro, erano presenti i seguenti gruppi.
Da diversi Paesi: Comunità Semi del Verbo.
Dall'Italia: Comunità del Seminario di Reggio Calabria; Cresimati della Diocesi di Faenza-Modigliana, con il Vescovo Mario Toso; Gruppi di fedeli dalle Parrocchie: Sant'Andrea, in Bergamo; Santi Pietro e Paolo, in Castelnuovo di Garfagnana; San Timoteo, in Termoli; San Martino; Madonna della Sanità, in Vallecorsa; Santi Gioacchino e Anna, in Selegas; Unità pastorale San Martino in Strada, di Forlì; Sant'Antonio abate, in Valmontone; San Lorenzo, in San Buono; Agenti di Pubblica Sicurezza del 151° Corso, di Napoli; Associazione Il sorriso nel cuore, di Sesto San Giovanni; Accademia di canto "On the heart road", di Roma; Ex allievi dell'Istituto Farina, di Vicenza; Comunità educativa per minori, di Tito Scalo; Cenacolo Clemente Rebora, di Savigliano; Soci del Club Alpino Italiano, di Gavardo; Dopolavoro dell'Azienda sanitaria, di Trapani; Azienda Teleperformance Italia, di Taranto; gruppi di fedeli da Montemesola, Taranto, Roccaravindola, Forlimpopoli, Castel Sant'Elia.
Coppie di sposi novelli.
Gruppi di fedeli da: Repubblica Ceca; Croazia; Bulgaria; Romania; Pellegrinaggio della Diocesi di Varazdin (Croazia).
Dalla Polonia: Pielgrzymi z parafii pw. św. Wojciecha w Koszalinie; z parafii pw. św. Józefa Rzemieślnika w Koszalinie; z parafii pw. nmp Wspomożenia Wiernych w Miastku; pielgrzymi z diecezji włocławskiej; pielgrzymi z Wrocławia; uczestnicy Poznańskiej Pielgrzymki Archidiecezjalnej; członkowie Reprezentacyjnego Zespołu Pieśni i Tańca "Zawiercie"; pielgrzymi indywidualni z kraju i zagranicy.
De France: Pèlerinage de l'Arquidiocèse de Rennes, avec S.E. Mgr. Pierre d'Ornellas; groupe de pèlerins du Diocèse d'Arras; groupe de Maires du Diocèse de Cambrai, avec S.E. Mgr. Vincent Dollman; Chefs d'Establissements d'éducation du Diocèse de Créteil, avec S.E. Mgr. Dominique Blanchet; Lycée Parchamp, de Boulogne-Billancourt; Lycée Sainte Ursule, de Paris; Lycée Fénelon, de Elbeuf; Collège Sainte Marie, de Fougères; Mouvement international Solidarité humaine; Collaborateurs des Sœurs Ursulines de l'Union Romaine.
De Suisse: Paroisse de la Cathédrale de Sion.
De la République Démocratique du Congo: groupe de pèlerins.
From various countries: A group of priests participating in the course of the Institute for Continuing Theological Education at the Pontifical North American College.
From Ireland: A group from St. Patrick's Pilgrimage, Limerick.
From Belgium: A group of Patrons of the Arts in the Vatican Museums.
From Denmark: A group of pilgrims from Copenaghen.
From Norway: Students and teachers from the following: St. Francis Xavier Catholic school, Arendal; St. Sunniva Catholic school, Oslo.
From Nigeria: A group of pilgrims from the Nigeria Christian Pilgrims Commission accompanied by the Archbishop of Abuja, H.E. Ignatius A, Kaigama.
From Indonesia: Pilgrims from the following: Archdiocese of Jakarta; Santa Maria de Fatima Church, Jakarta.
From Canada: Pilgrims from the Toronto Oratory and Holy Family Parish, Toronto.
From the United States of America: Pilgrims from the following: Archdiocese of Dubuque, Iowa; Diocese of Toledo, Ohio; Pilgrims from the following parishes: St. Joseph's, Middletown, Delaware; Our Lady of Fatima, New Castle, Delaware; St. Mary's, Huntley, Illinois; St. John the Beloved, Summerville, South Carolina; A group of pilgrims from the following: Chicago, Illinois; Metuchen, New Jersey; Pilgrim Center of Hope, San Antonio, Texas; Pilgrims and benefactors from the Gregorian University Foundation, Washington dc; Students and teachers from the following: cea Study Abroad Program, Phoenix, Arizona; ciee Study Abroad Program, South Portland, Maine; St. Jeanne de Lestonnac School, Temecula, California; Saint Basil School of Gregorian Chant, Houston, Texas.
Aus der Bundesrepublik Deutschland: Pilgergruppen: Hl. Mutter Teresa aus Chemnitz; Hl. Benno, Dresden; St. Martin, Fridingen; St.Johannes, Glonn; St.Josef und St.Marien, Nörvenich; St. Willehad, Oldenburg; Hl. Franz von Assisi, Queidersbach; St. Martin, Waakirchen/Schaftlach. Pilgergruppen aus dem: Bistum Erfurt; Bistum Limburg; Erzbistum München-Freising; Bistum Münster; Erzbistum Paderborn. Pilgergruppen aus: Aachen; Eining; Radolfzell; Kirchengemeinde Offenheim. Jugendliche, Schulen: St. Ursula Gymnasium Arnsberg; Goethe-Gymnasium, Auerbach/Vogtland; Evangelisches Gymnasium zum Grauen Kloster, Berlin; Kopernikusschule Freigericht; Kath. Oberschule Bernhardinum, Fürstenwalde; Bischof-Neumann-Schule, Königstein; Privates Johannes Gymnasium, Lahnstein. Ministranten, Firmlinge: Pfarrei St. Gertrud Dingelstädt, Kefferhausen, Kreuzebra, Silberhausen; Pfarrei Gillenfeld und Manderscheid, St. Andreas, Gillenfeld; Ministranten der Pfarrei St. Laurentius und St. Valentin, Saarburg.
Aus der Republik Österreich: Pilgergruppen aus den Pfarrgemeinden: Pensionistenverband Österreich 2, Klagenfurt am Wörthersee; Schüler und Lehrer aus dem Bundesgymnasium Mattersburg, Burgenland.
Aus der Schweizerischen Eidgenossenschaft: Pilgergruppe aus der Pfarre St. Peter, Rümlang; Pilgergruppe aus Altendorf; Wolhusen und Umgebung; Firmlinge der Seelsorgeeinheit, St. Antonius, Diepoldsau.
De España: grupo de peregrinos de la Diócesis de Jaén, con S.E. Mons. Sebastián Chico Martínez; Associació cultural de Sant Domingo, y las Parroquias de Nostra Senyora dels Dolors, Crist Rei y Sant Pau, de Manacor; Parroquia San Sebastián, de Cercedilla; Parroquia San Martín, de Bueu; Centro académico romano fundación, de Madrid; Colegio María Inmaculada, de Águilas-Murcia.
De México: Santuario de Nuestra Señora de Guadalupe, de Tapachula; grupo de peregrinos de la Diócesis de Tijuana; grupo de peregrinos.
De Venezuela: Movimiento de espiritualidad Betania.
De Colombia: grupo de peregrinos.
De Guatemala: grupo de peregrinos.
De Argentina: grupo de peregrinos.
De Portugal: grupo de peregrinos.
Do Brasil: Paróquia de Nossa Senhora das graças, de São Caetano do Sul; Paróquia deSão Sebastião, de Jundiaí; Paróquia de Nossa Senhora Aparecida; Comunidade Canção Nova, de São Paulo.