Microcredit for vulnerable people in Ethiopia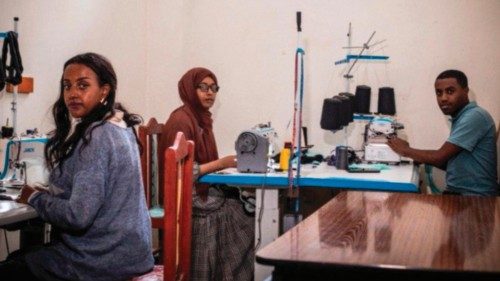 17 November 2023
The Global Solidarity Fund's pilot project in Addis Ababa, launched at the end of 2020, in collaboration with a consortium of women's and men's religious congregations, coordinated by the Archdiocese, is succeeding in getting many internally displaced persons, 'returning' migrants and refugees from other African countries into work, not only because they are employed by companies collaborating in the project in the Ethiopian capital, but also because they have started their own micro-enterprises. The inter-congregational network recently signed an agreement with Hibret Bank and Elebat Management and Technology Solution, to support them in starting up and growing their businesses.
Supervised by the Ethiopian Ministry of Labour and Skills, the Memorandum of Understanding foresees the implementation of an innovative financial inclusion project for migrants and vulnerable people living in Addis Ababa. The project will provide microlending services to organised groups or individual beneficiaries. The bank and the financial technology service operator are part of a consortium to implement the innovative "Tila" project, a three-year inclusive scheme launched in 2021 which aims to support 42,000 vulnerable people, including women in rural Ethiopia, internally displaced persons, refugees, homeless youths and people with disabilities. The project is a joint venture between the Ethiopian Ministry of Labour & Skills and the MasterCard Foundation, carried out by five local implementers.
The consortium's agreement with Elebat Management and Technology Solution, which helps beneficiaries in digital banking, was signed at the St Michael's Socio-Pastoral Centre — which houses the offices of the Socio-Pastoral Commission of the Archdiocese of Addis Ababa — by the commission's head, Fr Petros Berga, and Mulatua Teshome, Chief Operation Officer of Elebat Management and Technology Solution, in the presence of the heads of the congregations involved in the project. The digital banking system is included in the implementation of the "Tila" project. As Fr Berga explained, thanks to the support of Hebret Bank and Elebat Management and Technology Solution, "Tila" helps project beneficiaries "who cannot provide guarantees to a bank, for example, to obtain financing for their business", by providing these bank guarantees for them.
"Here in Ethiopia, many, far too many people, don't have a job", Mulatua Teshome told us, "and programmes like the one we have initiated with this memorandum will be able to eradicate, at least in part, this unemployment. They will change the lives of many people". Elebat's manager emphasised that, in addition to funding from banks and technological support, vulnerable people who want to open their own micro-enterprises will receive specific training and managerial support from the inter-congregational consortium. "This signing is an important occasion, because we are expanding our network with other entities", commented Fr Berga. "And this is thanks to the 'Tila' project, which acts as an intermediary between the banks and the beneficiaries".
At the Ministry of Labour & Skills in Addis Ababa, a large building still under construction, we met Biruktawit Belay, grants and partnerships manager at the Job Creation Commission. "We would like to increase the 'Tila' project because it has created jobs for the most vulnerable communities in our society", she told us. It is in line with the Ministry's commitment to provide job opportunities "for our vulnerable communities, young people, women, refugees, idp s", and give them the chance "to get an income to support their families, their children, and feel comfortable, especially in a new country for them like Ethiopia", she said. The project of the Global Solidarity Fund and the inter-congregational consortium "is also in line with our strategy". The "Tila" project, echoed Teferi Tadesse, of the Ministry of Labour and Skills and coordinator of the "Tila" project, "is a very important platform which has proven effective for serving marginalised groups in society", for whom it provides mentoring and ongoing training. That is why "the government and our ministry in particular have a commitment to scale it up", he said. "We have a lot of potential to do this," he concluded, "because several partners are approaching the project, especially new financial institutions" that will enable their microcredit products.
#voicesofmigrants
By Alessandro Di Bussolo
Addis Ababa, Ethiopia