Athletica Vaticana at the San Francesco Marathon in Assisi
Promoting solidarity and peace through sports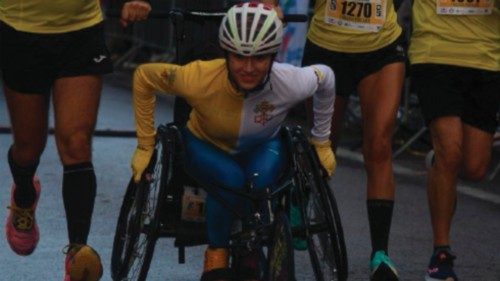 10 November 2023
Some 2,000 runners gathered in Assisi, Italy, on Sunday, 5 November, for the first edition of the San Francesco Marathon. The event was marked by a spirit of cooperation, welcoming and solidarity, in line with Pope Francis' vision of sports as a place of encounter for everyone.
Before the start of the 42-kilometre race, Bishop Domenico Sorrentino of Assisi - Nocera Umbra - Gualdo Tadino read the Pope's words of encouragement and blessing to athletes at the starting line in front of the Basilica of Saint Francis. Accompanying him were Fr Marco Moroni, the General Custos of the Sacred Convent; Fr Federico Claure, who was in charge of organizing the event; and representatives of Athletica Vaticana, the Vatican's official athletic association.
The San Francesco Marathon was an opportunity to pray for peace and to take part in concrete works of charity. Athletica Vaticana took the opportunity to turn the occasion into a 3-day sporting pilgrimage, involving young people with disabilities at the Serafico Institute and people in need who receive assistance from the "Pope Francis" House in Santa Maria degli Angeli near Assisi. The pilgrimage also included a clothing drive for people in need, organized by the Vatican's Santa Marta Pediatric Dispensary Foundation, and the celebration of Holy Mass the evening before the race.
Meanwhile, in the world of padel, Athletica Vaticana will join the United States Embassy to the Holy See for a week of "Sports Diplomacy", from 13 to 17 November. Professional padel players Andrea Samson and Anderson Good will travel to Rome as sports envoys to play with children with disabilities, vulnerable persons, students and diplomats, with the goal of fostering inclusion, solidarity, women's empowerment and healthy living.