Interview with former Premier of Israel Yair Lapid
Winning war for new leadership in Gaza with Palestinian Authority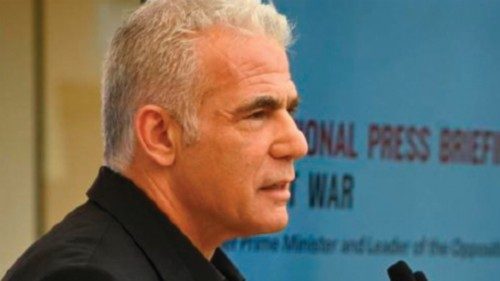 03 November 2023
Mr Yair Lapid is the immediate predecessor of Benjamin Netanyahu as Prime Minister of Israel. He resigned from that position exactly one year ago, on 1 November, 2022, after the general elections, during which his party, Yesh Atid, became the second-largest party in the Knesset (Israel's parliament) after Likud, with 24 seats. After Hamas' attack on Israel on 7 October, Mr Lapid refused to be part of the National Unity government chaired by Mr Netanyahu, deeming himself incompatible with religious nationalist ministers remaining in government. Mr Lapid, thus, is currently the parliamentary leader of the opposition. Despite the intense commitments of recent days, Mr Lapid kindly granted "L'Osservatore Romano" the following interview.
What is your interpretation of the events on 7 October? Did Israel underestimate its military's control of the southern border or was it a mistaken political strategy?
The massacre on 7 October was the single biggest massacre of Jews since the Holocaust, since 1945. We will have to study, review and investigate what happened and what went wrong. There will be time for that when the war is over. We were clearly surprised on 7 October, but we won't be surprised again. We're prepared and we're ready. Our task now is to dismantle Hamas, to win the war, to bring back the men, women and children who have been abducted, and restore security for the people of Israel. That is what we are focused on.
Why did you refuse to be a part of the national unity government?
When the events of 7 October became clear, I was the first person to call for a unity government. Due to a series of technical reasons, it wasn't possible and we made the decision that we could better serve the country from the opposition. What's important isn't political unity but unity of the people, of the society. I am working to strengthen that unity every day. I am spending time with the survivors and with those who have lost their homes. I'm working to make sure the world knows the truth about what happened that day, and I'm giving my full backing and support to our security services and our soldiers.
How would you interpret Israeli public opinion after 7 October?
The Israeli public is both grieving and determined. We are more united than ever before. We are hurting but we also understand what we have to do now. The people of Israel have overcome great tragedies in our history and risen again. Now we have to do that while also winning a war that was forced upon us by the cruellest of terror organizations.
Beyond the current crisis, what is your strategic view for the future of Israel and its relationship with the Palestinians?
It is clear that after this war there can be no more Hamas in Gaza. We cannot ask our people to raise their children alongside a brutal terrorist organization. The acts carried out by Hamas were horrific beyond words. When we have dismantled Hamas, we need to work with the Arab world and the international community to create a new leadership in Gaza, which will likely include the Palestinian Authority. Our strategic goal is clear — to ensure that the people of southern and northern Israel can live peacefully and securely in their homes knowing that the country is behind them. Every step we take going forward should work to advance that strategic goal. (Roberto Cetera)