Spiritual closeness to those affected by hurricane Otis in Mexico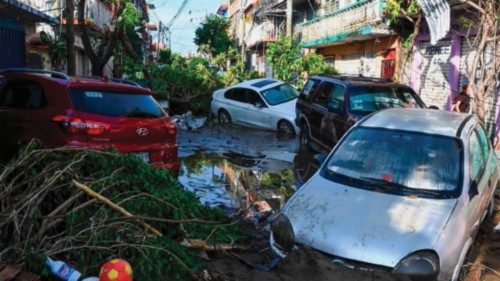 03 November 2023
Pope Francis was deeply saddened to learn of the devastating Hurricane Otis which made landfall in Mexico on Wednesday morning, 25 October. The Category 5 storm left 30 people dead in Acapulco alone, and caused tremendous damage, leaving hundreds of thousands of people in the state of Guerrero in dire situations. A state of emergency was declared in the entire region.
In a telegram signed by Secretary of State Cardinal Pietro Parolin, and addressed to Archbishop Leopoldo González González of Acapulco, the Pope assures his "fervent" prayers for the deceased, invoking the Lord's consolation upon "those suffering the devastating effects" of the natural catastrophe. He also prays that feelings of "ardent charity" may grow in the Christian community so that affected areas may be rebuilt together.
The Pope expresses his condolences to the victims' families, as well as his spiritual closeness to the wounded and all the "beloved people of Acapulco" affected by this calamity. The Holy Father imparts his apostolic blessing to them "as a sign of faith and hope in the risen Christ".