Audience with Member of the Collegial Presidency of Bosnia and Herzegovina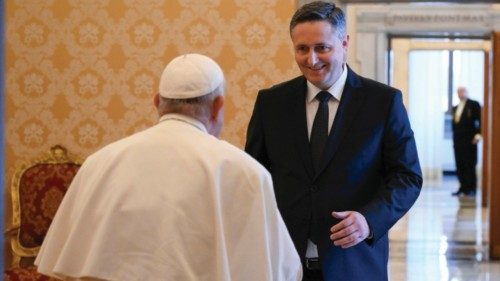 27 October 2023
On Saturday morning, 21 October, in the Vatican Apostolic Palace, the Holy Father received in audience H.E. Mr Denis Bećirović, Member of the collegial Presidency of Bosnia and Herzegovina, who subsequently met with Cardinal Secretary of State Pietro Parolin, accompanied by Archbishop Paul Richard Gallagher, Secretary for Relations with States and International Organizations.
During the cordial discussions that took place in the Secretariat of State, appreciation was expressed for the positive bilateral relations, also mentioning some open questions in Church-State relations. The domestic situation of the country was then discussed, and it was reiterated that the basis for peace and stability is the legal and social equality of all constituent peoples and dialogue among all political actors.
The conversation continued with an exchange of views on the international situation, with particular attention to the consequences of the war in Ukraine and the conflict in the Holy Land, the enlargement of the European Union to include the countries of the Western Balkans, and the progress of Bosnia and Herzegovina on the European path.