Pain and the challenge not to hate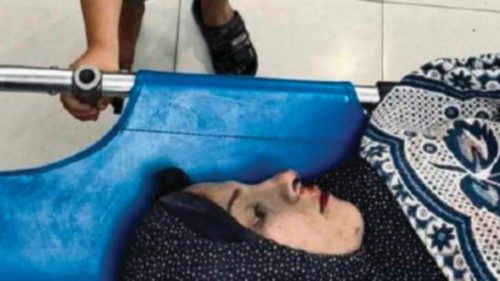 20 October 2023
This photo upsets me. It is a visual representation of the lowest point humanity can reach. It is the emblem of the most absolute degradation that war brings and drags along with it in its path of death.
What does this child feel, seeing the suffering in the face of the person who gave him life and who has to endure even more pain and hardship? That little hand on the bed, looking for support and protection. He is incredulous, he is scared, he is incapable of dealing with so much pain, perhaps he cannot even cry.
What will become of this little boy? How and to what extent will this violence impact his formation and growth?
I am the director of the Terra Sancta Schools. I receive many compliments for the education and services the Custody [of the Holy Land] has been offering for hundreds of years. In our schools, the children and teenagers are at the centre of everything. The teaching staff is very involved with me to guarantee a good level of academic formation. We also try to be attentive to personal formation, we try to identify possible psychological distress, especially taking into account family and social contexts.
I see this child and I pray to God that in his life he may find only love, like the love of she who gave him life and who must now give him the strength not to hate.
Ibrahim Faltas