From Africa to São Paulo, Roman and John's arduous migration journey
Something to live for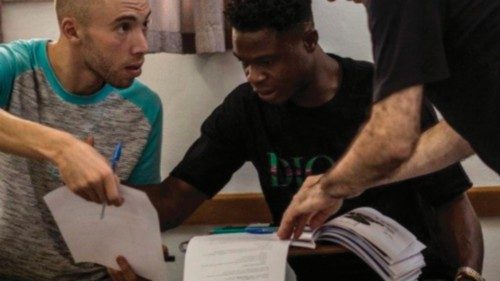 13 October 2023
Fleeing Nigeria and the Ivory Coast, two men put their lives at risk to leave their homeland. Hidden in boats whose destination they did not know, they arrived as far as São Paulo, where the Missão Paz organization of the Scalabrinian religious is now helping them to open up to a new future.
While Roman is finishing eating meat with rice, potatoes and beans, John is washing the dishes of the more than 80 people who have eaten lunch in the Casa del Migrante in the centre of São Paulo, Brazil. Between June and July, the two fled Africa hiding on merchant boats whose destination they did not know. They were both determined to leave social contexts marked by extreme violence and poverty, where the lack of work prevents people from dreaming of a promising future. Anything was better than staying there, and any risk, however great, they said, was worth taking.
It was the second time that Roman Ebimene, a 35-year-old single man, tried to escape Nigeria through the port in Lagos. "The reason I wanted to leave my country was because of the harsh living conditions: there is no food, no money and no health", he points out, and with emotion adds, "I had to leave Africa because every day, we see that they kill and kidnap us".
In total darkness on the night of Tuesday, 13 June, a fisherman took him in his row boat to a ship he managed to board by climbing the nets hanging from the stern. Roman was the first of four Nigerians who clandestinely boarded that ship before sunrise. They stretched out on the nets in an open space of two cubic metres near the helm. From there, they could see the water, but not the horizon.
Two weeks later, John Ekow similarly boarded another cargo ship in Côte d'Ivoire, leaving his wife and two children there. "I had no job and saw that I could do nothing there. A friend told me that I had to go on an adventure to build a future", says the 24-year-old Ghanaian. That friend became his travelling companion in the deafening corner where they took refuge next to the ship's propeller and where they could only communicate by shouting. They set sail from the port of Abidjan on Friday, 28 June.
Thirst and uncertainty
Roman had plenty of water and some food with him, but they did not last long. The four Nigerians managed to make their provisions last for 10 days. They had never imagined such a long journey, and they tried to understand how such a boat could take so long to reach Europe or the United States, the two destinations where they hoped to start a new life.
"The ship kept sailing. The first day passed, then the second, then the third, and it wouldn't stop! Several times we wondered where that ship was headed. I had never faced such a long voyage!", says Roman. In addition to the exasperating thirst they were beginning to feel, was the uncertainty of how much longer they could survive. At times they thought about going on deck and asking the crew for help, but the terror of being thrown overboard as punishment prevented them from doing so.
For John and his companion, water and food lasted much less. On the fifth day, they could not take it anymore and went for help. The captain of the ship himself went to meet them. The Ghanaian admits that they treated them well, and even complimented them on their courage.
Only then did they learn that they were heading for Brazil. However, they were told that they had to stay on that ship and return to Côte d'Ivoire, or they had to hand themselves in to the Brazilian migration authority. "I decided no; considering how far I'd gone, I could not go back to Africa", John says, to explain why he refused the two thousand dollars they offered him if he returned to Abidjan.
Please help, help!
On the 14th day of their clandestine crossing, and more than 5,500 km from their point of departure, the four Nigerians had reached their limit. They only had a little sea water to drink, and the cold was unbearable. They had little strength left and certainly little hope. It was then, on 27 June at five in the morning, that they heard the engines of the coastal patrols approaching the freighter. It was dawn. Roman decided to put his life on the line. Balancing himself, he walked on the rudder and then sat on it. "I started shouting: please, help, help, we are stowaways!", he recalls of the moment when the rescue began.
The images of these men in extreme conditions have gone around the world, highlighting the desperate acts that thousands of migrants make, every day, in order to escape their countries, in order to survive. They were in the port of Vitória, in southeast Brazil, where they were received as refugees. Two of them decided to return to Nigeria because they had not reached their desired destination.
A hand stretched out in anguish
Roman and one of his companions arrived in São Paulo, where they were taken in by Missão Paz (Peace Mission), an organisation run by the Scalabrinian religious, who have been assisting the thousands of migrants arriving in Brazil for over 80 years. John also arrived there on 18 August, after his ship had landed in Macapá, in the north of the country. His friend continued the journey to French Guyana, while he decided to go to São Paulo.
These two African migrants now have something to live for, and their next challenge is to learn the language, so they can work. John is a car mechanic and wishes to find suitable clothing for repairing vehicles as soon as possible. Roman is a welder and at Missão Paz, they have already found several employment opportunities for him.
Both are thus beginning a new phase in their migrant story: that of fitting into a new society. According to experts, this phase can generate even more anguish than the traumas experienced on the boat, because the cultural clash, social resistance and indifference to human suffering, are usually sources of deep frustration.
At Missão Paz, they are familiar with these sufferings. In addition to offering accommodation, food, Portuguese courses and legal assistance, to make those sufferings more bearable, they also offer psychological support to those who, after a long and tortuous journey, open themselves up to the possibility of a better life in a land far from home.
This reportage was created in collaboration with the Global Solidarity Fund.
#voicesofmigrants
By Felipe Herrera-Espaliat
special correspondent in São Paulo, Brazil