Pope Francis creates 21 new Cardinals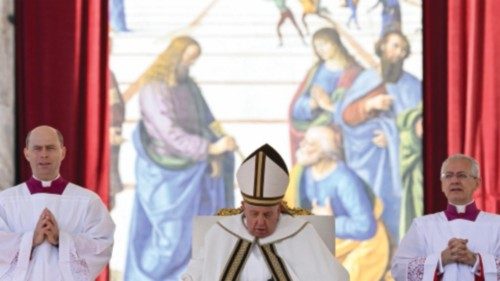 06 October 2023
Rome, 30 September
On Saturday morning, 30 September, the Supreme Pontiff Francis held an Ordinary Public Consistory on the parvis of Saint Peter's Basilica for the creation of 21 new Cardinals, the imposition of the biretta, consignment of the ring and assignment of the Title or Deaconry.
The Holy Father arrived at 10 a.m. and made his way to the altar at the centre of the parvis. He was greeted by the Prefect of the Dicastery for Bishops, the first among the new Cardinals. After the opening prayer and the reading (Acts 2:1-11), the Pope delivered his Allocution. He then read the formula for the creation of Cardinals, proclaiming their names:
— Robert Francis Prevost, Prefect of the Dicastery for Bishops;
— Claudio Gugerotti, Prefect of the Dicastery for Eastern Churches;
— Víctor Manuel Fernández, Prefect of the Dicastery for the Doctrine of the Faith;
— Emil Paul Tscherrig, Apostolic Nuncio;
— Christophe Louis Yves Georges Pierre, Apostolic Nuncio;
— Pierbattista Pizzaballa, Latin Patriarch of Jerusalem;
— Stephen Brislin, Archbishop of Cape Town (Kaapstad);
— Ángel Sixto Rossi, Archbishop of Córdoba;
— Luis José Rueda Aparicio, Archbishop of Bogotá;
— Grzegorz Ryś, Archbishop of Łódź;
— Stephen Ameyu Martin Mulla, Archbishop of Juba;
— José Cobo Cano, Archbishop of Madrid;
— Protase Rugambwa, Coadjutor Archbishop of Tabora;
— Sebastian Francis, Bishop of Penang;
— Stephen Chow Sau-Yan, Bishop of Hong Kong;
— François-Xavier Bustillo, Bishop of Ajaccio;
— Américo Manuel Alves Aguiar, Bishop of Setúbal;
— Ángel Fernández Artime, Rector Major of the Salesian Society of Saint John Bosco;
— Agostino Marchetto, Apostolic Nuncio;
— Diego Rafael Padrón Sánchez, Archbishop emeritus of Cumaná;
— Luis Pascual Dri, Confessor of the Shrine of Our Lady of Pompei, Buenos Aires.
Fr Luis Pascual Dri was not among the newly created Cardinals present on the parvis. The new Cardinals made their profession of faith and vows. They received the red biretta, the cardinal's ring, and the Title or Deaconry they were assigned.
The ceremony ended with the Apostolic Blessing, that the Holy Father imparted to all those present, and the Marian hymn, "Salve Regina" (Hail, Holy Queen).