The Pontifical Commission for the Protection of Minors concludes Plenary Assembly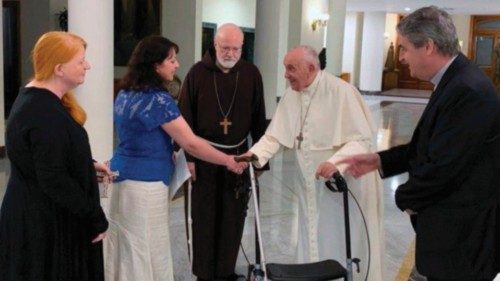 29 September 2023
Transparency and responsibility were the fulcrums of the Plenary Assembly of the Pontifical Commission for the Protection of Minors, held in Rome from 20 to 22 September. The session was opened by the testimony of Antonia Sobocki and Maggie Mathews, representatives of the loud fence association, which works to support victims of abuse. The two women were then received on Thursday, 21 September, at Casa Santa Marta by Pope Francis, who called loud fence "a sign of hope".
The Plenary devoted its first day of work to a discussion on safeguarding policies and procedures in the Church. The Commission approved the draft Annual Report, which will be made available on the website by the end of September, with a view to publishing the first Annual Report in spring 2024. As part of this process, the Commission examined the status of the cooperation agreements with the Roman Curia. It also met with the superiors of the Dicastery for the Eastern Churches.
The Commission reviewed plans to expand the safeguarding capacity-building programme in local churches. Some donors have pledged to provide $2.5 million in funding for churches with scarce resources. A financial accountability mechanism for the use of these funds has been published and implemented as part of a programme called 'Memorare' and is available on the Commission's website.
The assembly heard reports from the regional groups on the progress made in their areas, with a focus on the needs of Africa. Twenty local churches — including bishops' conferences and conferences of religious — expressed their wish to avail themselves of the programme. During the meeting, the President of the Commission, Cardinal Seán Patrick O'Malley, signed a memorandum of understanding with the Church of the Central African Republic, the second after the one signed with the Rwandan Church in May this year.
Finally, it was decided to extend a survey on the ugf (Universal Guidelines Framework) until 2024, through which responses received from all Churches around the world are being evaluated in order to implement the second phase of the development of child prevention and protection: "In our first year, we launched a global campaign of consultation on a set of comprehensive guidelines that the Commission intends to use in strengthening safeguarding capabilities throughout whole Church," said Cardinal O'Malley.
The President of the Commission went on to say that he was "very grateful for the commitment of such a dedicated group of safeguarding professionals from all over the world. Our Church is a large entity that includes all peoples and nations so our task might seem daunting. But we have begun implementing a plan that encompasses the whole Church in its different stages of development."