Pope Francis visits Marseille, France, for the conclusion of the "Rencontres Méditerranéennes"
To promote peace and welcome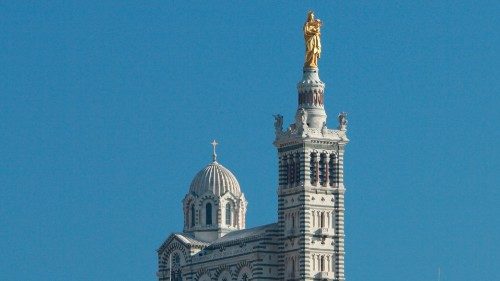 22 September 2023
Pope Francis is scheduled to depart for a two-day Apostolic Journey to Marseille to promote peace and welcome, on Friday afternoon, 22 September, leaving from Rome's Fiumicino Airport at 2:35 p.m., and arriving in Marseille at 4:15 p.m.
After an official welcome from France's Prime Minister, the Holy Father will head to Marseille's Basilica of Notre Dame de-la-Garde, where he will pray first with the clergy of the local diocese, and then with a group of professionals from various organisations dedicated to the pastoral care of seafarers, migrants, and refugees, among them, Stella Maris, Caritas Gap-Briançon, and the Association de secours en mer.
The following day, Saturday, 23 September, Pope Francis will participate in the final session of the Mediterranean Meetings, a Church-led initiative aimed at building community amongst the region's various peoples, religions, and cultures. Participants will include bishops and young people from North Africa, the Middle East, and southern Europe. The Pontiff will then meet privately with French President Emmanuel Macron.
After lunch, Pope Francis will travel to Marseille's Vélodrome stadium, where he will celebrate Holy Mass for the general public, before heading to the airport for his departure. He is expected to land in Rome at around 8:50 p.m.
On Tuesday morning, 19 September, the Holy Father visited the Basilica of Saint Mary Major where, as he does before every Apostolic Journey, he paused in prayer before the icon of Salus Populi Romani and entrusted his Apostolic Journey to her care.
See next week for the Pope's discourses in Marseille.