The measure of love is love without measure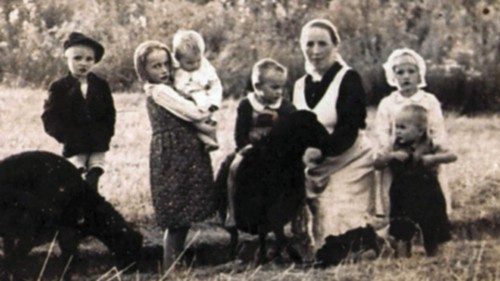 15 September 2023
"Greater love has no man than this, that a man lay down his life for his friends" (Jn 15:13). During the Second World War, the Ulma family took on this evangelical attitude, and decided to give shelter to eight Jewish people. Józef and Wiktoria Ulma and their seven children paid for this choice with their lives, in 1944.
They did not hesitate to help eight people with Jewish heritage: Saul Goldman and his four children; Lea Didner with her 5-year-old daughter Reszla; and Golda Grünfeld. At that time, in Nazi-occupied Poland, all those who helped Jewish people and kept them in hiding risked being executed. The Ulmas knew this because some Polish people in the area had already been killed for harbouring Jews. It is important to remember that after the assassination of the Ulma family and of the Jews in the village of Markowa, other families in the area saved 21 Jewish people.
Although this took place 80 years ago, similar tragedies are happening even in our days and before our eyes, in the "third world war fought piecemeal" that Pope Francis often highlights. It seems that we have not learned anything from history.
The Ulma family's sacrifice shows that even in the depths of evil, one can choose the way of the Good Samaritan who comes to the aid of wounded man. Józef and Wiktoria chose to love "to the end". They were guided by their Christian faith, which was essential in their lives and which they wanted to pass on to their children. The Ulmas showed that the measure of love is love without measure.
They incarnated holiness and can be an example for all of us. Theirs was a holiness lived in simplicity and in community, where the whole family passed on the faith at home.
Millions of people were exterminated during the Second World War. May the memory of these terrible events inspire us all to work for justice and for peace. May it spur us to help those who are being persecuted today, who flee from wars in countries throughout the world.
May this beatification make us more attentive to others in need. May it drive us to go in haste to the aid of those who are in material and spiritual need today, especially those whose lives are under threat.
*Metropolitan Archbishop of Poznań
President of the Polish Bishops' Conference
Stanisław Gądecki