We are all 'God's nomads'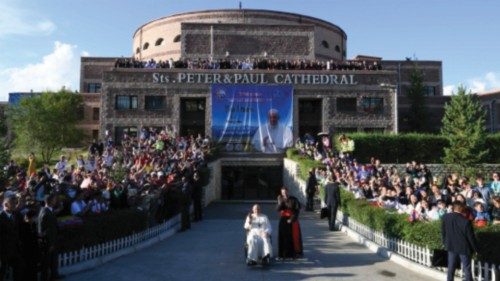 08 September 2023
During his discourse at the ecumenical and interreligious encounter in Ulaanbaatar's Hun Theatre, on Sunday, 3 September, Pope Francis spoke about the possibility and necessity of hope, which is always a difficult path, longer and more arduous than desperation, but stronger and more fruitful, in order to continue to live as human beings. He said precisely that "it is possible to hope. In a world rent by conflict and discord, this may seem utopian, yet the greatest undertakings are hidden and almost imperceptible at the outset".
The Church in Mongolia is very small, "almost imperceptible". There are some 1,500 Catholics in the entire country, but God loves smallness, as the Pope said during his discourse in the Cathedral, when he invited the faithful to look to Mary, who accomplished great things in her hiddenness. At the beginning of the Gospel according to Luke, the evangelist indicates God's hidden and discrete approach and way of being. On the one hand, there is Emperor Augustus, the most powerful man in the world, who decrees a census. He wants to count his subjects, to know the numbers: men reduced to data to be gathered and recorded (like the bricks of Babel). On the other hand, God sends his angel to Nazareth in Galilee, the periphery of the peripheries (to the point that Nathanael of Cana wondered, "Can anything good ever come out of Nazareth?"), to offer a young girl a project that would upset her life and change the history of the world.
Hope is this difficult path, which does not trust large numbers, but rather, bravely welcomes life's challenge, a path that often leads to crossing the desert.
The image of the desert was at the core of Pope Francis' homily on Sunday, 3 September, which made reference to the nomadic tradition of the Mongolian people, extending it to all of humanity: "all of us are 'God's nomads', pilgrims in search of happiness, wayfarers thirsting for love. The desert of which the Psalmist speaks, then, is our life. We are that dry land thirsting for fresh water, water that can slake our deepest thirst. Our hearts long to discover the secret of true joy, a joy that even in the midst of existential aridity, can accompany and sustain us. Deep within us, we have an insatiable thirst for happiness; we seek meaning".
The desert, and with it, thirst, and behind it all, death. Fear comes from here, the sense of loss that assails each man and each woman during the course of their journey in life. The fear that led Peter to be scandalized by the Cross and to want to "protect" Jesus, tearing him away from his destiny of suffering. Jesus' reaction is clear and sharp. And even more so were his last words on the Cross that express and assume this entire mystery: firstly, "I thirst", and then, "my God, why hast thou forsaken me?".
Christian faith has provided an answer to this question and to this thirst. The Pope said this firmly and fervently in his homily, inviting the faithful to remain and live within this question, without avoiding it or fleeing: "Christian faith is the answer to this thirst; it takes it seriously, without dismissing it or trying to replace it with tranquillizers or surrogates. For in this thirst lies the great mystery of our humanity: it opens our hearts to the living God, the God of love, who comes to meet us and to make us his children, brothers and sisters to one another. […] It is true that, at times, we feel like a 'dry and weary land where there is no water', yet it is equally true that God cares for us and offers us clear, refreshing water, the living water of the Spirit, springing up within us to renew us and free us from the risk of drought. Jesus gives us that water".
The Pope then quoted from a beautiful passage by Saint Augustine: "'if we recognize ourselves in those who thirst, we can also recognize ourselves in those who quench that thirst' (On the Psalms, 63:1). Indeed, if in this life we often experience the desert with loneliness, fatigue and emptiness, we should also remember, with Augustine, that, 'lest we grow faint in this desert, God refreshes us with the dew of his word… True, he makes us feel thirst, but then comes to satisfy that thirst… God has been merciful to us; he has opened for us a highway in the desert: our Lord Jesus Christ'. And that is the path through the desert of our lives". There is the desert, there is thirst, but there is also water.
Danish author Karen Blixen faced this mystery. This is the destiny of real artists. She lived within that question and gave us this reflection: "Nobody has seen the trekking birds take their way towards such warmer spheres as do not exist, or rivers break their course through rocks and plains to run into an ocean which is not to be found. For God does not create a longing or a hope without having a fulfilling reality ready for them. But our longing is our pledge, and blessed are the homesick, for they shall come home".
Returning home from his Journey in Mongolia, Pope Francis gives us this hope, a hope that is possible, necessary and credible. ( a. m. )
Andrea Monda