22nd Sunday in Ordinary Time: 3 September
Do not be conformed to this world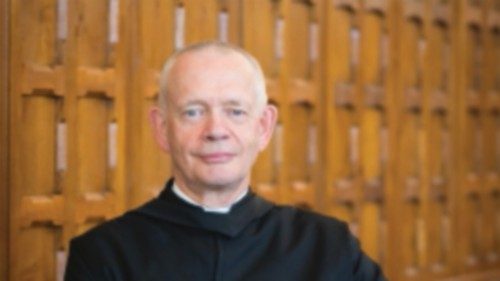 01 September 2023
Do not be conformed to this world but be transformed by the renewal of your mind. Paul's injunction is entirely relevant to the Peter of today's gospel, and to all of us who must live in a world in which we often feel a laughingstock all the day; every one mocks me. These two quotations are from the second and the first readings of this Sunday. Jeremiah and Paul both knew how counter-cultural their message was. Despite many centuries of dominance, Christ's message remains at sharp variance with the mind of the world.
I am not talking only about "worldliness", however, in the sense of all the selfish exaggerations of money, sex and power that can so easily tempt us. Look at Peter: last Sunday he blurted out his inspired profession of faith, earning from Jesus a declaration that is written on high in enormous letters of mosaic around the nave of St Peter's in Rome: on this rock I will build my Church. Today, however, in the twinkling of an eye, the rock of stability has become the rock of stumbling: You are a hindrance to me; for you are not on the side of God, but of men. The second part of this quotation is not a good translation: the Greek means you do not think the things of God, taking us back to Paul's be transformed by the renewal of your mind.
Peter is, of course, a good man, full of enthusiasm and affection for Jesus. He is not thinking perversely but rather naturally: he is thinking according to the world. It is because he cares for Jesus that he cannot tolerate the idea of his suffering and dying. Natural love, however, is insufficient. The supernatural gift of faith granted by my Father who is in heaven, to quote last Sunday's gospel, is not yet complete in Peter's heart. A deeper love for Jesus would enable this chosen disciple to assist the master in his mission, however painful. And now, with renewed patience, the Lord explains once again the paschal pattern that must transform any Christian life, including ours.
This is what Paul means in the second reading: do not be conformed to this world but be transformed by the renewal of your mind. When the mind and the heart are formed by the paschal mystery, everything we experience has the possibility of becoming co-redemptive in Christ.
By Fr Edmund Power, osb