Starting with the word Synod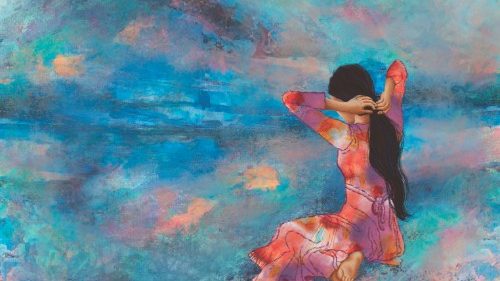 30 September 2023
The word Synod is an ancient and beautiful word. There is the prefix "sùn" which refers to communion, relationship, and unity. Then followed by the way. Synod has always been a metaphor for life, but also for the many roads that criss-cross it, which in themselves are never straight, nor do they continue without intersections. The Church is community, from her origins, small creative communities bound by affection and the consciousness of a gift, and a responsibility. The grace of the encounter with Christ and his friends, his witnesses. The task of mission, so that what saves and gives meaning and happiness may be brought to all men.

If I ask my children what the Church is, today, or what she is historically from what they have studied, they think of popes, cardinals, and bishops. There are communities, but we have to be part of them, and if we are part of them, they are often closed communities, composed of close relationships. In addition, the churches, then, the place of the ecclesia, of the assembly, which are less and less an occasion of community. We go in, we follow the liturgy, alone or with our folks, and we leave, without feeling like a child or a sibling. So to hope, to work, to find ways and methods so that the Church is once again synodal, that is, a companion to destiny, is so good and right that one wonders why there should be any change, or a revolution.
What is missing for this to be so? Hierarchy, clericalism, habit, and fatigue. If, however, the summit is not an exercise of power, but an authority recognised and loved for its charisma -obedience is a virtue indeed-, it is for my good, our good. If authority does not move alone, but is capable of listening and sharing, it is a father.
Clericalism is an anachronistic portent, and untrue. Priests are increasingly isolated, sometimes despised, at risk, and have no power at all: in fact, far from it. They burden themselves with burdensome commitments that are too often far removed from their life choice and calling. They become administrators, organizers, welfare substitutes, psychologists, and/or social workers. Instead, I notice that the claims of too many lay people push them to move and exercise power like priests, and it is not a gain. Habit and weariness arise from the loss of the gift of Baptism, and affect the religious and non-religious alike; therefore, no one is excluded. We will have to reckon with this heaviness of spirit.
The whole Church is called to find its way again, and question itself in order to bring the word and life of Jesus -with courage and a smile, freedom and judgement- to the world. This is what I ask of the work of the Synod. I am not interested in the Synod if it means meetings, among those already working in the various frameworks, parishes, diocesans, and porpore assemblies. I am not interested in elaborations of documents, if it is not to gather with simplicity and without disguises the thousand voices of the thousand faces of the Church in the world; in short, when these meetings are aimed at the Unicum Necessarium, and the faith. Therefore, and as a consequence, charity, hope, social justice, culture, and mission. Faith either changes and innervates all reality and life, or it does not serve, it is uninteresting, it is a rule, a theory, and a custom.
It will be the pope who will synthesize, and show the way. Because the Church is not a democracy, she is the place inhabited by the Holy Spirit. Unfortunately, this synodal momentum, it may be the fault of the media translation, seems to me to be centered on a few and usual claims, sometimes aimed at dismantling doctrine, or worse, at detaching morality from doctrine. As if meetings, dialogues, drafting of texts, and then new meetings, and study of documents, were aimed at deciding whether homosexual couples should be blessed or not, what tasks should be entrusted to women, whether perhaps priests feel less lonely if celibacy is abolished.
These are issues that do not interest me, and I feel they lead elsewhere, sometimes increasing the amount of confusion and division. Of course, I would like everyone to be welcomed, without any ifs and buts, and without distorting the teachings of the Church. Of course, I would like women's' perspectives, which are confined to caring, to be heard and sort after, because care means attention, tenderness, sensitivity to the person, and this changes the government's role, initiatives, and minds too.
It is this splendid diversity that must be recognised and valued, not equality in prominent positions. Women should teach in every seminary, for a start.
Of course, I would like a young Church, to whom young people feel they can belong, and dedicate their dreams, commitment and boldness, without pretending to reduce faith to sentiment, to their own way of thinking, taking bits and pieces of it here and there, as is convenient. This is because everything is asked of young people, and it is 'the everything' they desire. Young people, and not only.
The Synod that interests me is the clarity of the Christian proposal, in unity, in faithfulness, in gratitude, in loving attention to every person, in the certainty that the road, from a thousand roads, is only one, that of Christ.
By Monica Mondo