An issue of Women Church World with illustrations by Silvia Martínez Cano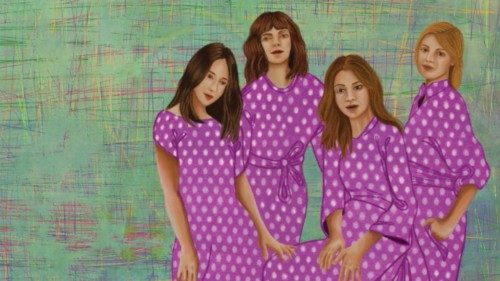 30 September 2023
The illustrations in this issue of Women Church World, which is dedicated to the Synod on Synodality, are by Silvia Martínez Cano, who was kind enough to make them available to us.
Martínez Cano is a theologian and multidisciplinary artist, comprising painting, sculpture, murals, and photography. Her work is an investigation from a multiple perspective on three themes: women, education and theology. Martínez Cano's approach is feminist, because "being a believer and a feminist in these times is almost an obligation for those who want to follow Jesus". She currently works at the Complutense University of Madrid, as an adjunct lecturer in Theology in the Faculty of Education, at the Higher Institute of Pastoral Ministry, and at the Saint Pius X Institute, both of which are part of the Pontifical University of Salamanca (UPSA). Martínez Cano is the current president of the Association of Spanish Theologians (ATE).
Among the works we have published in this issue are those produced for the series Biblical Women of the San Paolo publisher in Spain, which Martínez Cano coordinates.
The project that started in 2020, envisages the publication of thirty volumes, in which stories and reflections on female figures from the Old and New Testaments will alternate. At times, the book is based on a concrete biblical text, with the author's perspective on the character chosen at the time. On other occasions, the protagonist is a biblical woman.
Each volume is written by a prestigious theologian with different theological approaches, which vary from the more analytical and historical-critical model to the more metaphorical style, such as narrative theology. The diversity of perspectives and the quest for the renewal of biblical imagery are some of the characteristics of this collection. Martínez Cano designs the covers of the volumes too, and with which she suggests other types of images for biblical women. Two new books are out this month (October): La mujer viuda pobre del templo [The poor widow woman of the temple] (left) and Lía, Raquel, Bilha y Zilpá [Lia, Rachel, Bilhah and Zilpah] (right). Here in Women Church World we have a preview.