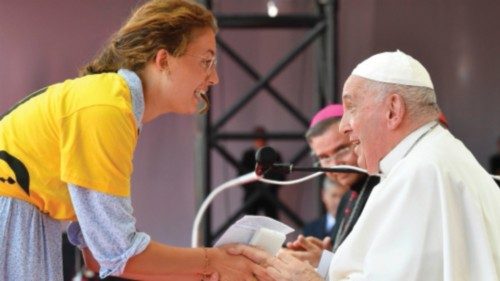 11 August 2023
"In those days Mary arose and went with haste into the hill country, to a city of Judah" (Lk 1:39). This verse from the Gospel of Luke was chosen as the theme for wyd Lisbon 2023, which ended on Sunday, 6 August. It is a theme that characterized the entire event, also thanks to the words of the Pope, who from his very first discourse to his last, reflected on this theme of moving with haste, in dialogue with the young people (circa 1.5 million), who joyfully invaded the streets of the Portuguese capital. In his last address, as he thanked over 25,000 World Youth Day volunteers, the Pontiff emphasized that moving quickly [with haste] has to do with love because: "Those who love do not stand idly by, but serve others. Those who love hasten to serve, hasten to dedicate themselves to the service of others. And you ran a great deal in these past months". He added an important distinction: "You have done much running about, yet never in a frenetic or aimless way that can sometimes characterize our world. No, you ran in a different way. You ran to meet others in order to serve them in the name of Jesus".
And it's true: there are different ways of running, just as there are different ways of hurrying. There can be the blessed haste of Mary, who runs to see her cousin Elizabeth, and there can be the "frantic" haste of those who are always "running" in life, but without a destination, just to arrive before the others as if to want to cover up a grey area of insecurity and fear with their winning performance. There is the race of Zacchaeus (whom the Pope quoted in his last speech), who hurried down a sycamore tree to see Jesus, and there is the running and fleeing of the wicked, as mentioned in the Book of Proverbs: "The wicked flee when no one pursues" (28:1), a flight away from oneself. Who knows, perhaps Zacchaeus knew that kind of fleeing well until the day in Jericho when Jesus came to meet him.
Man often runs, but where to? For what reason? One of the greatest heroes in classical antiquity was famous for running: Achilles, known as "swift-footed". He ran towards glory and military power. In the mid 1800s in the United States there was the race to the Far West. It was above all a race to find gold in California, a race of greed. Indeed, today, we still tragically speak of an "arms race": this race too is for glory and military power.
Fortunately, there are other types of rushing, of being in haste. The Pope has repeatedly emphasised the importance of two moments that make up a race: the start (the origin), and the destination. What drives a person and what attracts him or her, are the questions we should be asking ourselves, in order to understand that the answer often coincides. Two examples from the Bible eloquently illustrate this truth of the link between moving in haste and love, which for Christians is tantamount to the encounter with Jesus. There is the example of Paul, a stalwart 'runner' for Christ, who joyfully says to Christians in Philippians: "Brethren, I do not consider that I have made it my own; but one thing I do, forgetting what lies behind and straining forward to what lies ahead, I press on toward the goal for the prize of the upward call of God in Christ Jesus" (Phil 3:13-14). His race arises and tends towards the joy of the Gospel, as the Pope reminded young people when he pointed out that "joy is missionary".
And even before Paul, there had been Peter. He too runs but does so "together". This is another key word to understand the message the Pope consigned to young people in Lisbon: "They both ran, but the other disciple outran Peter and reached the tomb first" (Jn 20:4). Peter, the elder, runs together with John, the youngest of the Apostles, and the two, with their clearly different strides, have a common goal: the tomb. Theirs is not yet joy, but it is a great hope, that is ready to turn into joy. This image of Peter with the young John arriving first (and stopping to wait for him) can effectively convey the scene that unfolded during these five days on Portuguese soil. The successor of Peter, the elderly Pope Francis, who walked tirelessly together with the young people who came here from all over the world, to meet and listen to him. Together they listened to Jesus and Mary. During the Saturday evening vigil [5 August], the Pontiff and more than one million young people remained in silence together in adoration of the great mystery of God-made-man, who rushed through life to "bring the fire" of a proclamation of great joy to all human beings, thus awakening them and inviting them to set the world on fire by travelling to the ends of the earth. ( a.m. )
Andrea Monda