Four students give their witness
To 'live the teachings of Pope Francis'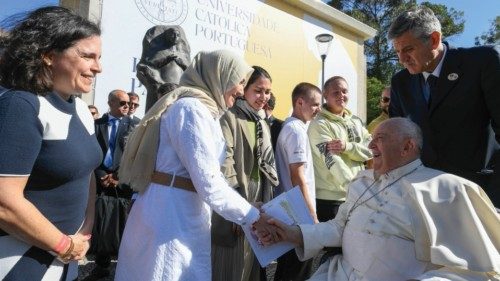 04 August 2023
After his address at the Universidade Católica Portuguesa, Pope Francis heard the witness of four students.
The first one to speak was 29-year old Tomás Virtuoso from Lisbon who holds a Masters degree in economics and is currently studying theology. His talk focused on Laudato Si'. New generations, he said should see the Holy Father's Encyclical letter as a call to use the best that science can offer and to reject technological advances that do not have strong ethical and spiritual roots. We should affirm without fear "that there cannot be an authentic integral ecology without God and that there can be no future in a world without God", he stressed. At the end of his address, he offered the Pope a "Manifesto" of the lifestyles required for a new humanity.
Twenty-one year old Mariana Craveiro who is from Porto spoke about the Global Education Pact. She began attending the university in 2020 at the height of the pandemic. The psychology student said that in that context, through the program "Cattolica Solidale" she began to understand the importance of always making the human being the priority. This, she added, led her to serve food to Porto's homeless and poor people. "Holy Father, I want to be a protagonist of change, and not a young person looking out the window, watching the world go by", she said. "I want to implement all that I have learned in my profession, in order to reach the most vulnerable people and to help write new stories and paradigms for a fairer world".
Speaking about the Economy of Francesco, philosophy student Beatriz Ataíde, thanked the Pope for inviting them to take new paths, for inspiring them to reflect, to listen to one another, and to take on responsibility. She told the Holy Father that she had discovered she had a special vocation to live her faith within the field of culture.
Mahoor Kaffashian, from Iran, was the last student to address Pope Francis. She has been studying dentistry in Viseu and is one of the recipients of the Pope's social fund for a culture of encounter. She explained that she had been displaced in Iran and had been a refugee in Ukraine when the war broke out. "After everything I had been through, after the constant feeling of the absence of a hearth, of family, of friends, after having been left without a home, without a university, without money, I know that the concept of strength does not mean not feeling tired, exhausted and defeated by suffering and loss; it just means that I have the strength, the faith and the courage to go forward".
Gaetano Vallini