Vatican's Santa Marta Pediatric Dispensary hosts community day of fraternity
Embracing 500 families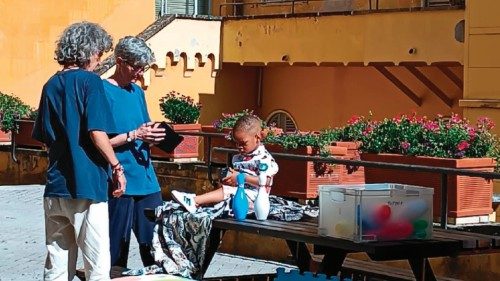 14 July 2023
On Saturday, 8 July, the community of the Santa Marta Paediatric Dispensary in Vatican City held a day of fraternity to weave bonds of friendship among the 500 families who arrive on their doorstep daily to receive care and aid, destined especially for the youngest. The volunteers who receive and assist them throughout the year shared a day of leisure and joy with them. The hope is that this event, as well as the one organized around Christmas time — in recent years, the latter has seen the paternal participation of Pope Francis, who chose to celebrate his birthday with the Dispensary's children — will be moments in which to grow and get to know one another, a necessary step for socialization and integration.
These moments of fraternity, lived simply, are particularly significant because they allow participants to experience true communion. In fact, throughout the year, the families experience the welcome and care of the volunteers only individually. In order to promote a culture of encounter, it is necessary to expand our hearts and extend our arms. Being together helps us feel like a family and grow in friendship, so as to all become brothers and sisters. In the Dispensary's subdued style, the programme for 8 July was simple. An initial moment of welcome was followed by a guided tour of the Vatican Gardens to breathe in the beauty: a walk together, made accessible also to the youngest participants, including those in strollers. After some refreshments in the atrium of the Paul vi Hall, with lunch served by the young hosts, it was time for the "mini Olympics" for the 150 children present. Organized by members of Athletica Vaticana, the Holy See's official sports organization, the "Olympics" included cycling, friendly races and padel rallies. All the children received medals and symbolic certificates making them "honorary members" of "the Pope's team".
This moment of fraternity was especially encouraging for the families, particularly for mothers with small children, who have been the beneficiaries of the activities and services of the paediatric facility since the Dispensary's founding on 8 May 1922. Given its date of foundation and unique mission, the Dispensary chose to make its annual celebration coincide with Mother's Day. This decision bears witness to and makes everyone feel, through action, the maternity of the Church, which helps everyone — young and old alike — feel like a son or daughter. The most authentic purpose of the mission of charity and inclusion of the Dispensary is undoubtedly to remind, especially children, that we are all loved by God: no exceptions.
* Head Officer of the Office of Papal Charities
Fr Francesco Mazzitelli *