Australia and the Holy See
Promoting sport and faith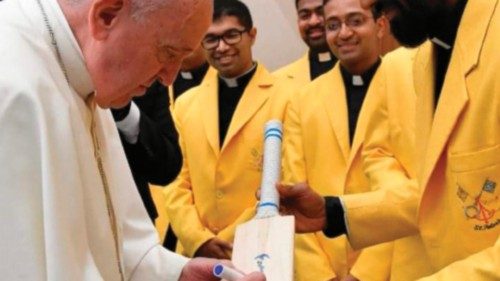 07 July 2023
Cricket is one of Australia's national sports, played across the country during the summer months by both men and women, and watched by millions. It is a sport that unites Australians from all different backgrounds, bringing communities together.
In a similar way, cricket at the Vatican has for many years provided an opportunity for young priests and seminarians in Rome, far from the cricket-loving countries that they come from, to connect and share their love for the sport.
So it was with great pleasure and pride that the Australian Embassy to the Holy See, led by the former Ambassador John McCarthy, supported the launch of the St Peter's Cricket Club in October 2013, working closely with the then Pontifical Council for Culture (pcc).
Inspired by Pope Francis, who in his first year was already championing the value of sport as a means of fostering dialogue, Ambassador McCarthy, set up the team with the help of Cricket Australia and with the patronage of the Sports Office of the pcc . Modelled on the Clericus Cup, which brought together teams of seminarians and other Vatican sportspeople for an inter-collegiate football tournament.
The highlight of the founding of the club was the "Light of Faith Tour" in September 2014, during which the St Peter's Cricket Club took on the Anglican Communion at the Kent Cricket Ground in Canterbury, England.
The team was welcomed and hosted by His Grace the Lord Archbishop of Canterbury Justin Welby, with funds raised in aid of the Global Freedom Network, a faith-based, interreligious organisation aimed at eradicating modern slavery and human trafficking.
The Pope's xi narrowly lost to the Archbishop's xi during their match at Canterbury, but they won the first historic St Augustine Cup in the rematch in Rome in October 2015. As a symbol of friendship and healthy sporting competition, Pope Francis was gifted with a cricket bat signed by the Archbishop of Canterbury and his team following the rematch.
Several successful Light of Faith tours have followed, with this year's tour of Spain about to commence. The Embassy was proud to see the St Peter's Cricket Club officially become a part of Athletica Vaticana, the Vatican's sports team, in 2023. Sport remains a key pillar of our engagement with the Vatican and we look forward to continuing to work together through sport to promote the values of inclusion, equity and respect.
* Ambassador of Australia to the Holy See
By Chiara Porro*