Pope Francis meets with the President of Cuba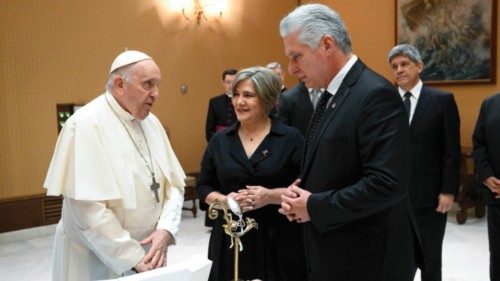 23 June 2023
On Tuesday morning, 20 June, in the study of the Paul vi Hall, Pope Francis received in audience the President of the Republic of Cuba, H.E. Mr Miguel Díaz-Canel Bermúdez. The President then met with Secretary of State Cardinal Pietro Parolin, accompanied by Monsignor Daniel Pacho, Undersecretary for the Multilateral Sector of the Section for Relations with States and International Organizations.
During their meeting they discussed the importance of diplomatic relations between the Holy See and Cuba, citing Saint John Paul ii 's 1998 visit 25 years ago. They also discussed the situation in Cuba and the Church's contributions, especially to charitable activities.
During their conversation, they also touched on a number of international topics of mutual interest, and the importance of continuing efforts to serve the common good were stressed.
The President introduced Pope Francis to his wife, Mrs Lis Cuesta Peraza and his son Miguel Díaz-Canel Villanueva.