Faith stronger than persecution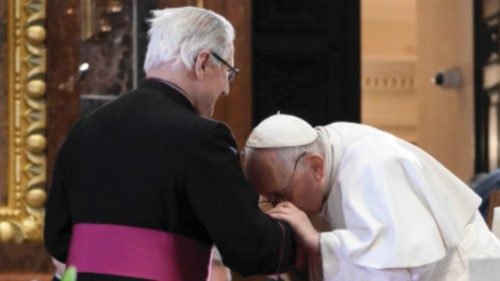 05 May 2023
Pope Francis listened to four testimonies during his meeting with Bishops, Priests, Deacons, Consecrated Persons, Seminarians and Pastoral Workers, at the Co-Cathedral of Saint Stephen, in Budapest, on Friday, 28 April.
Fr József Brenner, a priest from the Diocese of Szombathely, welcomed the Pope on behalf of the clergy. "We who survived the Second World War have always been faithful to the Church", he said, mentioning the decades of persecution of Christians by the communist regime. Fr Brenner, who has been a priest for 66 years, told the Holy Father their prayer intentions: "for good Christian families and for good priestly vocations".
Speaking about his own upbringing in a devout Catholic family, he remembered his brother, Blessed János Brenner, also a priest, who "was brutally killed at the age of 26 by the atheist regime" and later beatified by Pope Francis in 2018.
Another testimony was offered by Sándor Kondás, a priest from the Eparchy of Miskolc, and head of the Greek Catholic media centre. He expressed his gratitude for his vocation to the priesthood and to marriage, talking about the joys and challenges of raising their children.
Expressing his gratitude for the opportunity to experience his relationship with God through the Byzantine rite, Fr Brenner noted that "the success of the priestly ministry is not measured by what I can do, but by how much I am able to empty myself, to abandon myself to [God]".
Another testimony was offered by Dominican sister, Krisztina Hernády. She shared her vocation story with Pope Francis, confiding that despite her childhood desire to be a saint, she was reluctant to enter religious life when she first heard God's call. "I wondered why God would want a 20-year-old girl to go through life dressed as a 'black widow'", she said. "It was in the context of this lack of understanding", she added, "that I found another vision — the divine one". Gradually, thanks to the support of other men and women religious, Sister Krisztina affirmed her desire to join the Dominican Order, and today, she lives and teaches in Hódmezővásárhely, a city in southeastern Hungary, together with six other sisters. "In this region", she explained, "the image of a God who loves us personally and who cares for us ingrained itself in the minds of the people during the trials of the last centuries. As a result", she continued, "we are faced every day with the people's physical, and above all, spiritual, poverty", as well as an openness to the good.
Another testimony was offered by Dorina Pavelczak-Major, principal collaborator at the Commission for the Catechesis of the Hungarian Bishops' Conference.
Speaking on behalf of lay pastoral ministers, catechists, acolytes, lectors and Extraordinary Ministers of the Eucharist, Sister Dorina said, "We willingly carry out our profession in the fields of Catholic education, social and health care, and at the same time, naturally, we give great importance to catechesis in public academic institutions", she said, stressing the importance of "understanding and touching the hearts of those who search for the ultimate truth".