Testimonials
Treated as a minority, women have less than anyone else does
To be imprisoned twice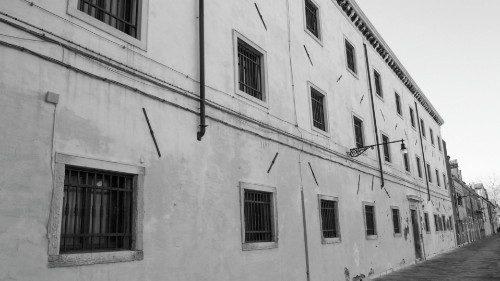 06 May 2023
The first time I crossed the armored prison threshold, I did not think that, enclosed within those four walls, I would find the whole world. A world separate from that of the social community, in which all the problems, critical issues, and difficulties of the outside are mirrored and amplified, condensed and compressed in both space and time.

Principle No. 5 of the European Prison Rules of the Council of Europe, the European body that promotes and protects human rights, states that prison should be as close as possible to the positive aspects of life in free society. Those positive aspects, however, often get lost along the way, and prison becomes quite simply the place where the negative aspects are concentrated; where the problems to which society does not know or does not want to give answers are put away, and with them the people who bear them. Entering prison, then, means encountering this reality of great suffering, unimaginable poverty and vast humanity.
Prison is an institution that favour the poor. It is easier for those below the breadline to enter and more difficult for them to leave, as demonstrated in Italy by the 1,466 people with a sentence of less than one year. Their presence in prison with such short sentences speaks to us of their social marginality and subjective fragility; but it also speaks to us of the absence of social policies in the outside world that are capable of intercepting critical situations before they become illegal behaviour and are dealt with by criminal law. The latter, however, can do very little, because those few months in prison do not even allow the activation of an observation or treatment programme. Theirs's will only be an empty time, taken away from life. Prison is a male issue in both numbers and in philosophy. In numbers, because women constantly account for four per cent of the prison population. Out of the 56,332 people sentenced to confinement in Italy in March 2023, 53,883 were men, while 2,439 were women. There are four female prison complexes -Venice-Giudecca, Rome, Pozzuoli and Trani-, housing 618 women. The other 1,821 are confined in 49 female sections of male-dominated institutes. In thought, because the prison is an institution designed for men, the entry of female staff even in top positions (currently 70 per cent of the Institute directors are women and five out of nine appointed superintendents are women) has so far only succeeded in turning it into a false neutral, without affecting its underlying logic. The outlook on penal enforcement has not changed. In fact, women are treated as a minority and as such have less of everything, whether that be less attention, less space, less offers, and less answers. A de facto marginalisation.
The small number, which could favour the possibility of customized courses, translates, on the contrary, into a scarcity of activities, which are often unattractive and based on female stereotypes; instead, women are offered the "beautician" course while men can become pizza makers. In addition, it can also be that the lower number of women confined in a prison section does not even make it possible to form a school class, which leads to the detriment of the right to study while incarcerated. If only a twentieth-century approach were applied, but mixed classes are not foreseen in prison, except in very few institutions. Equally so, as it happens in the "nursery" sections equipped to accommodate women with one or more children under three years of age (fortunately increasingly empty and with an average in 2022 of about 20 women present), the attention is focused solely on the children. However, the presence of child-care workers and sometimes volunteers dedicated to them exhausts the offer aimed at the section. This means that there is no work, cultural initiatives, sports or other activities for women prisoners, only support for their children. Because their identity - in fact - is summed up in them being mothers.
For women, prison is tougher for more reasons than just the emptiness of the time that passes: the removal of the female presence from the family has repercussions on the very management of the nucleus. For example, the caring of children, the elderly, the frail, which are often entrusted to women, suddenly is not there, hence families break up. In addition, to the stigma of guilt, that of being bad mothers and bad women is added too.
On the other hand, volunteering and the Third Sector mainly involves women and within prisons is no exception. Thanks to a law that not only provides for but also "solicits" the presence of civil society, there are hundreds of associations and thousands of volunteers who enter prisons to contribute to the reintegration of prisoners, which is the purpose of serving a sentence according to the Constitution.
Why do you go into prison? I have been asked this question many times in my more than 30 years of volunteering in Rome's Rebibbia prisons. The answer is simple and complex at the same time.
As a citizen, because that reality belongs to me. Because those women and men are part of my social being and therefore part of me, of my identity. Because those lives are temporarily separated from mine and ours; nonetheless, they are part of my and our world. Because - as the President of the National Guarantor of the rights of persons deprived of their liberty, the jurist Mauro Palma, said when presenting the Annual Report to Parliament - it is necessary. He states, "To give tools to the entire community so that it recognizes that these worlds belong to itself, understanding that these very worlds are essential for the ability to fathom itself and are the indicators of its level of democratic nature".
As a Christian, I go into prison to give substance to the words of St Paul in the letter to the Hebrews when he writes, "Remember those who are in prison, as if you too were prisoners with them". It is the second part of this sentence that has always struck me. What does it mean, "as if you too were prisoners with them?" It means being there without judgment, without condemnation, without wanting to change those people while respecting them their identity and personal experience. To enter into each of those stories, to live and share their pain, anger, desire to change, regret, weaknesses and strengths, their falls and recoveries, their guilt, and frustration. It also means making the words of founder of the diocesan Caritas of Rome, Don Luigi Di Liegro, one's own, when he stated, "in prison one does not go to convert, but to be converted". However, as both a citizen and as a Christian, a presence and a commitment in prison does not end behind bars. If the outside does not change, if society outside does not become capable of welcoming back those who have done wrong and served their time, the prison wall will mark people forever, just like an indelible mark. There were 85 suicides in Italian prisons in the past year, many of whom were among people who had just entered prison, often coming from situations of serious hardship. This tragic number seems to express this cry of pain and severed hope. The Church too must once again become a community capable of living beyond walls, beyond separations, beyond fears. To visit prisoners also means to remember them, as if we were also prisoners with them. Without judgement and without prejudice. Without condemnation and without absolution.
By DANIELA DE ROBERT
A RAI journalist, Member of the College of the National Guarantor of the Rights of Persons Deprived of Their Liberty

Volunteers in Prison

In Rome, to listen to and accompany prisoners is the aim of the Volontari in Carcere Association (VIC) [Volunteers in Prison]-, which is active in the four Rebibbia penitentiaries (three men's and one women's). Every day the volunteers meet in the listening centers that are present in all the divisions of the institutes and at the detention ward of the Pertini Hospital. Female and male prisoners walk a stretch of road together, aimed to the outside but well anchored in the present and aware of the past. The VIC has a home to welcome detainees on special leave or alternative measures and their families from outside Rome. The VIC House is the context in which many people take their first steps into freedom, rediscovering a world they no longer know and reweaving, sometimes laboriously, the family network or meaningful relationships.
The VIC founded the e-Team social cooperative, which currently employs 25 people -7 women, 18 men- from the prison, composed of prisoners, those on semi-parole, probationers, and ex-convicts.