Athletica Vaticana together with several Embassies to the Holy See on Earth Day
Walking to promote peace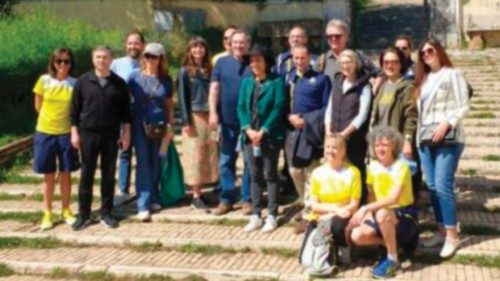 28 April 2023
Inspired by Pope Francis' words in Laudato Si', that "peace, justice and the preservation of creation are three absolutely interconnected themes", the Embassy of the United States to the Holy See in partnership with Athletica Vaticana and representatives of the Embassies of Great Britain, Ireland and Australia, organized a special walk to celebrate Earth Day on Saturday morning, 22 April.
Blessed by a glorious sunny day — as if the Earth knew we were there for her — the walk took place in one of Rome's most beautiful parks, Villa Pamphilj, and had the aim of highlighting the need to care for our common home and to fight against climate change.
It was a walk lived in simplicity, but of great importance, to show that peace can also be built by walking together and that even the simplest sport activity can be an 'antidote' to the big and small wars and can launch a direct message to respect nature and the human person. Villa Pamphilj provided the perfect backdrop to a sport that set the pace to discuss various issues regarding our planet, a sport that everyone can do. Just by walking together one can experience friendship, just by walking together one can take the time to get to know each other, to get to know the stories, in the true respect of Athletica Vaticana. As Pope Francis teaches us, through sport and dialogue, peace is built. And when sport is practised in this way, there is less desire to make war. These were just some of the words spoken by Mr Giampaolo Mattei, President of Athletica Vaticana.
Addressing participants during his welcome address, Mr Joseph Donnelly, US Ambassador to the Holy See, stressed that we "are facing multiple environmental crises and challenges", adding however that "President Biden is committed to fostering and maintaining a healthy planet through programs that preserve natural beauty, provide economic benefits for future generations, and address the climate crisis". Indeed, he continued, on "Earth Day, and every day, the United States and our partners are committed to protecting the environment and improving the health and well-being of communities around the world".
Also present was Ms Chiara Porro, Australian Ambassador to the Holy See, who highlighted that the walk provided an opportunity to reaffirm the concrete commitment to care for planet Earth. Although climate problems need to be fought on a global range, "we need to work together and ensure that no one is left behind, especially the most vulnerable communities", she said, quoting Pope Francis' words in Laudato Si' that nowadays "a true ecological approach always becomes a social approach; it must integrate questions of justice in debates on the environment, so as to hear both the cry of the earth and the cry of the poor". Australia "is willing to listen", Ms Porro continued. "We are listening to our Indigenous people, from whom there is much to learn and with whom we can work effectively to design strategies to counter the effects of climate change".
Deputy Head of Mission of the British Embassy to the Holy See Ms Anabel Inge underlined the urgency involved in caring for our common home, pointing out that the UK believes "greater action on climate change and biodiversity loss is as urgent as it gets". She highlighted her country's strong commitment to these goals. "We are the first major economy to set a net zero emissions target in law", she said, "and we've taken practical steps through legislation to halt and reverse biodiversity loss by 2030. But we all", she continued, "collectively and individually need to step up and increase our ambition. So this walk is highly symbolic", she concluded, wishing everyone a good walk: "Buona camminata a tutti".
Our planet is a beautiful and amazing place, but we need to take care of it. Earth Day is an opportunity to get together to raise awareness and give space to ideas that can help solve environmental challenges and protect the planet from things like pollution and deforestation which have become increasingly important issues in recent years.
Instituted in 1970, Earth Day is celebrated on 22 April each year by more than one billion people throughout the world.
Anna Morghen