Sister Jennifer Berridge helping hospital patients transition back home
'Love thy neighbour'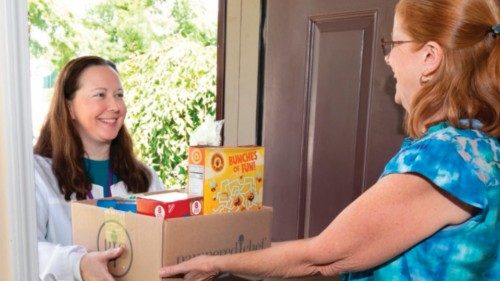 21 April 2023
Sister Jennifer Berridge, csj, loves her ministry helping vulnerable people in West Virginia transition from the hospital to home. Her new Catholic Charities program at West Virginia University of Medicine Wheeling Hospital has been so successful in reducing hospital readmissions, that she is helping to launch similar initiatives at two hospitals in Huntington, wv.
In the fall of 2020, Beth Zarate, ceo of Catholic Charities of West Virginia, announced receipt of a grant from Catholic Charities usa to fund a Hospital Transition Program to improve health outcomes for West Virginians. This highly innovative, hospital-based initiative, focuses on chronic disease management, home safety, nutrition, support networks, and food security. If left unaddressed, any one of these factors may quickly lead to hospital readmissions. In addition to being detrimental to patients, hospital readmissions negatively impact reimbursement rates for hospitals struggling to survive in low-income areas. In 2021, West Virginia was among the top 10 poorest states in the United States.
Sister Jennifer met Beth shortly after moving to Wheeling in 2016. After being introduced, Beth invited Sister Jennifer to consider being the case manager for this new program. Sister Jennifer felt drawn to the ministry because of her previous social services background and hospital experience as a Registered Vascular Technologist. "It just married the two seamlessly," she said. "To be in a medical setting and doing case management for patients coming out of the hospital, who are high risk and vulnerable, just seemed like the perfect fit for me."
Sister Jennifer joined the Catholic Charities team as a case manager in January 2021, and the new program officially launched at Wheeling Hospital on 1 March, 2021.
It's All About Relationships
In this role, Sister Jennifer is the "boots on the ground" part of the operation. After a hospital staff member makes a referral, she visits the patient immediately to start building the relationship. After introducing herself and explaining various services, she asks the patient, "When you go home, do you have everything that you need?" Many patients do not have food and other necessary personal hygiene items to stay healthy. They are also often embarrassed by their situations. "Building that relationship is key," said Sister Jennifer, "because if they do not have food insecurity, I can offer to bring a box of food to them before they leave the hospital, or to their home after they are discharged. I've had people start crying in front of me, thanking me for food, basic needs, things that most people would not even have to worry about, because there is such a food 'desert' in this area."
Relationships with staff and co-workers are also key. "One of our sayings in the Congregation of St. Joseph is, 'It's all about relationships.' And that's how I approach my ministerial life. Building relationships with my team at Catholic Charities, with the hospital, with our patients, with other agencies, and whoever is the next one right in front of me, is key. All of that is so important because you're creating an atmosphere of trust and cooperation."
Success Stories
On any given day, Sister Jennifer's schedule could include anything from arranging hot meal deliveries to discharged patients, to writing letters to assorted agencies on behalf of a needy client. She recently told Catholic Health World, "I know I'm doing what I can for those most in need, and any of my success stories are really about those moments where I could help someone." One of her favourite 'success stories' is that of a homeless man on supplemental oxygen who was living in his car last winter. Following open heart surgery, he refused to move to a shelter after being discharged from the hospital. He was a prime candidate for an all-too-speedy readmission.
Sister Jennifer swung into action, quickly finding an apartment for people with disabilities. She paid the rent, secured furniture and food, all before approaching the homeless man who accepted her offer and moved to a safe place to recuperate. He was never readmitted. To this day he is no longer homeless. "These are the kind of patients who keep me up at night," Sister Jennifer admitted, adding that the biggest challenge she faces in her ministry is seeing people struggle for basic needs and limited access to social services. "What I've seen and experienced is that no intervention is too small," she explained. "Even if I refer someone to a transportation service and that's all they need in their lives, that's not too small."
Making a Difference
The Catholic Charities Hospital Transition Program has proven to be quite effective in serving the most vulnerable in the Ohio Valley. Patients who might fall through the cracks when discharged, now have a safety net. Sister Jennifer's determination to serve her patients to the best of her ability has had a positive impact on the roughly 100 clients with whom she has worked over the past two years. "I try to make a difference. I check on my patients and make sure that if there's a medical crisis that arises, we get them the help they need," she said. "So far, I have a 100% no readmit rate in the first thirty days." Perhaps this is why her Catholic Charities team teasingly asked her to help develop a "Sister Jen 2.0" program at two hospitals in Huntington, where the Hospital Transition Program is being implemented. There are now two case managers in place serving patients in both hospitals. And in Wheeling, a new case manager was hired to partner with Sister Jennifer to expand the Hospital Transition Program at wvu Medicine Wheeling Hospital.
Meanwhile, the University of Notre Dame's Wilson Sheehan Lab for Economic Opportunities will work with Catholic Charities West Virginia to evaluate the impact and efficacy of the Hospital Transition Program grant. If the current success rate holds, the Catholic Charities Hospital Transition Program could become a model for other U.S. hospitals serving the most vulnerable populations.
#sistersproject
By Sister Christine Schenk, csj