The Holy Father's gesture of love at a detention centre for minors in Rome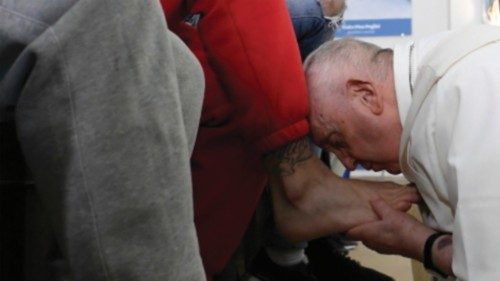 14 April 2023
Pope Francis visited Rome's "Casal del Marmo" detention centre for minors, to preside over the Mass of the Lord's Supper with a group of inmates and prison staff.
After the 15-minute drive from the Vatican on Holy Thursday evening, 6 April, the Pope made his way to the prison chapel, where he was greeted by the prison chaplain, Fr Nicolò Ceccolini, who celebrated Mass. Young inmates, accompanied by the centre's officers and personnel, participated.
After the Gospel reading, the Holy Father gave a homily ad lib. Then, as is customary, he repeated Jesus' gesture from the Last Supper, when the Lord washed his disciples' feet in a sign of love driven to service and humiliation. Pope Francis washed the feet of 12 inmates: 10 young men and two women, of different nationalities. He stopped briefly to speak with each individual after washing their feet. One of the inmates assured the Pope multiple times that he always prays for him and for peace in Europe. Another young man asked the Pope for "the grace to get out" of prison.
At the end of Holy Mass, the prison warden, Maria Teresa Iuliani, thanked the Pope on everyone's behalf, for his "immense gentleness" which disarms and draws one back to the essential.
Before leaving the centre, the Holy Father blessed the chapel's inaugural plaque, dedicated to Blessed Pino Puglisi, a Sicilian priest who gave his life for young people caught up in crime.
Then, while the Pope continued to greet those present, he was gifted a cross made by the young people involved in the centre's carpentry course, some cookies and a bag of pasta, all made at the bakery recently opened at the centre.
The Pope, in turn, gave inmates and staff a number of rosaries and chocolate Easter eggs. Before getting into his car to return to the Vatican, the Holy Father made his usual request, asking everyone to pray for him.
This wasn't the first time Pope Francis visited the "Casal del Marmo" detention centre. He had celebrated Holy Thursday there in 2013, the first year of his pontificate. He had urged the young people there at the time not to let themselves be robbed of hope.