Pope presides over Good Friday celebration and follows Way of the Cross from Casa Santa Marta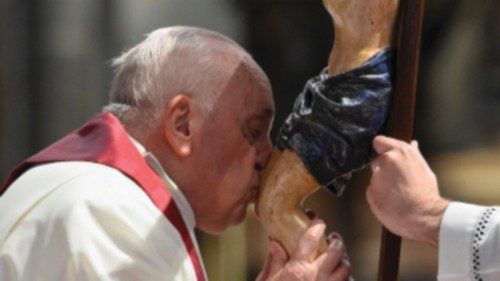 14 April 2023
Due to the intense cold of the past days in Rome and health considerations, Pope Francis followed Good Friday's Way of the Cross from his residence in the Vatican.
Before the Way of the Cross at the Colosseum, Pope Francis presided at the liturgy of the Passion of the Lord in Saint Peter's Basilica, commemorating the last hours of Jesus' life. The homily was pronounced by Cardinal Raniero Cantalamessa, ofm Cap., Preacher of the Papal Household, who focused his reflection on the ideological "Death of God" the modern secularized Western world has been experiencing for over a century, and which found its fullest expression in the famous words Friedrich Nietzsche put in the mouth of the "madman" in his work, "The Joyful Science". The Cardinal noted that the German philosopher's idea to replace God with a "Super-man" gave rise to modern-day nihilism, and that "some have come to define human existence as a 'being-for-death' and to consider all the supposed human possibilities as 'nullities from the start'".
"At the time of Romanticism", he added, "people used to bask in melancholy; today in nihilism!". Opposed to nihilism, "which is the true 'black hole' of the spiritual universe", is the Christian unwavering faith in God's Resurrection, Cardinal Cantalamessa said in conclusion.