Vatican Observer to UN
'Pacem in Terris' guiding star for path of peace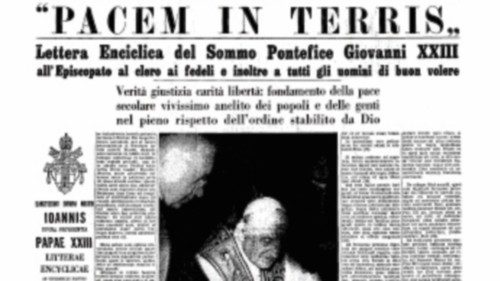 14 April 2023
In an interview with L'Osservatore Romano, Archbishop Gabriele Caccia, the Holy See's Permanent Observer to the United Nations, spoke about the relevance of Saint John xxiii 's Encyclical, Pacem in Terris, 60 years after its publication.
Speaking to Vatican Media Deputy Editorial Director Alessandro Gisotti, Archbishop Caccia reiterated the Vatican's commitment in favour of multilateralism and dialogue between peoples and nations, and drew a connection between Pacem in Terris and Pope Francis' encyclical, Fratelli Tutti, which, he said, points to "a basic attitude, to be rediscovered and made one's own, [...] in order to be able to grow in a context of respect and openness that are the premises for true cooperation between people, peoples, and nations".
In the interview, the Archbishop laid out the global context in which the encyclical came to be, that is, at the height of tensions during the Cold War and in light of the Second Vatican Council, which had just begun.
He stressed that Pacem in Terris continues to act as a North Star for those who, especially in the field of diplomacy, are committed to promoting peace and ending wars and conflicts today.
The interview in its entirety may be found at: https://www.vaticannews.va/en/vatican-city/news/2023-04/archbishop-caccia-vatican-observer-un-pacem-in-terris.html