Sharing suffering in Francis' way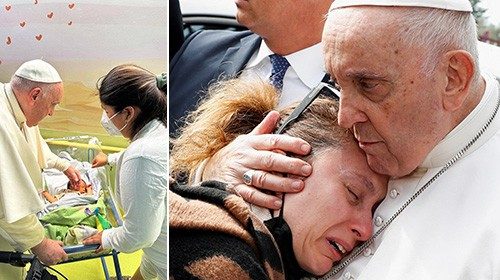 06 April 2023
They were three days, but very long ones because of their intensity. If "experience" is what we call life events that generate change, a transformation in the person experiencing them, then the Pope's hospitalization at Gemelli Hospital was a truly rich experience, not only for him, but also for all the people directly and indirectly involved in this event, which could mean the whole world, because, thanks to the media, the whole world was able to follow, at first with concern, then with relief and joy, the unfolding of these three days marked by increasingly positive and promising medical updates as the Pope's health improved.
Three days is a measure of time with a biblical, even Paschal, "ring" to it. It is the sign of Jonah of which Jesus speaks (Mt 12:38-41), of him being "in the belly of the whale", which points to being "in the heart of the earth" for three days and three nights. In his own way, Pope Francis, spent three days and nights in "the heart" of humanity, because a hospital is precisely the place where life and death face off in a duel, where joy and suffering coexist in an intense and inextricable embrace. The images from Friday afternoon, 31 March, of the Pope caressing, blessing and baptizing the newborn Miguel Ángel; and of him embracing the young mother crying over her daughter's death, speak of only a few of the profound emotions the Pope experienced and thus, conveyed to all the people "connected" to him.
Pope Francis' gestures evoke a positive and proactive attitude which he often stresses in his preaching, choosing as an icon Mary, who — at the moment of the Angel's Annunciation, despite the impact such an event would have had on her life — did not cry about her fate or withdraw into dismay but, as the Gospel of Luke says, "went with haste into the hill country" to visit her cousin Elizabeth who was in need. For the Pope too, the necessary and forced rest was not enough. Instead, he got up and took action because he was moved by the place he was in. He went to visit the people, greeting and encouraging them with simple closeness. He transformed an unforeseen event, an "incident", into an experience, transforming hardship into opportunity, with his nearness and closeness, in the sign of Our Lady, whom the Pope went to visit in her "home" at Saint Mary Major, as soon as he was discharged.
Andrea Monda