Palm Sunday in Jerusalem
A place of encounter, faith, prayer and unity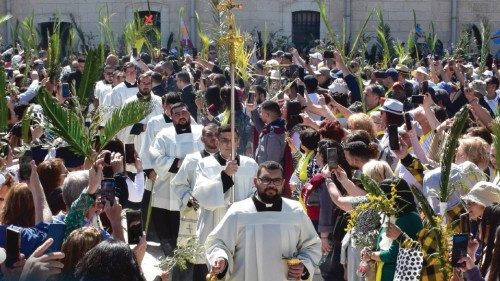 06 April 2023
Some 20,000 people took part in this Palm Sunday's procession through the streets of Jerusalem, the Holy City's biggest public event among Christians of different Churches. In the edicule of the Holy Sepulchre, Latin Patriarch of Jerusalem His Beatitude Pierbattista Pizzaballa, ofm, blessed the palms, from Jericho, and the olive branches from the Franciscan Convent of St Saviour. As on the day of Jesus' triumphant entry into Jerusalem amid the crowd singing hosannas, the assembly here also joyously waved the palms and olive branches during the three times around the edicule. This number recalls the days that passed between the death and the resurrection of Christ.
In the afternoon, celebrations retraced Jesus' entry into Jerusalem. Like every year, the procession began from the sanctuary of Bethphage on the Mount of Olives and proceeded into the Old City through the Lions Gate until it reached the Church of Saint Anne. In addition to religious and priests, the procession was attended by pilgrims from all over the world, local Christians, and migrant workers, mostly from the Philippines, India and Africa.
Celebrating with the faithful were also Latin Patriarch of Jerusalem His Beatitude Pierbattista Pizzaballa, ofm; Custos of the Holy Land, Father Francesco Patton, ofm; Archbishop Adolfo Tito Yllana, Apostolic Nuncio in Israel and Cyprus and Apostolic Delegate in Jerusalem and Palestine; and all the local clergy. "We are all united with joy in the name of Jesus, the most beautiful name of all, one that we will never cease to pronounce and celebrate", said Patriarch Pizzaballa as he welcomed participants outside Saint Anne Church following the procession. "We want you, once again, from Jerusalem, to carry this proclamation of love, freedom and life throughout the world, as people did two thousand years ago", he underlined. Despite many incidences of violence in recent weeks, also directed against Churches and Christian symbols, he urged the faithful not to be afraid "of those who want to divide, those who want to exclude or who want to take over the soul of this city". Jerusalem, he said, "is not only a city of conflict and division, of political and religious tension, of possession and exclusion", because it is "also a place of encounter, faith, prayer, joy, communion and unity".
"As you return to your homes, to your countries of origin, from Jerusalem to the many places from which you all come", Patriarch Pizzaballa told the faithful, "communicate to everyone this joy and the power of the Holy Spirit that we all have received here today".