The Founders
Sister Merlo of the Daughters of St Paul and her enterprise
Tecla, lessons in publishing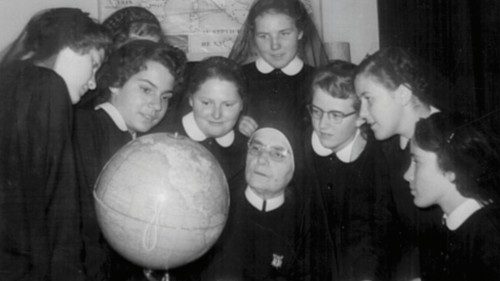 01 April 2023
Communication, publishing, books, magazines? Things (also) for women. This is what Fr James Alberione, the brilliant founder of the Pauline Family, thought about it. As early as 1915, he was looking for young women willing to follow him in his mission.

We are travelling back in time in Italy, to Piedmont, and the Great War has just begun. From the small town of Castagnito, a young girl, attracted by the fame of the "Theologian", walks on foot to Alba. Her parents do not want her, they fear that the quiet life of a tailor which they have planned for her, frail and of precarious health, will go in another direction. They were to be proven correct.
Teresa Merlo was 21 years old. Born on 20 February 1894 in Castagnito d'Alba, the second child of well-to-do farmers. She presented herself before the young priest who first realised the importance of communication for the apostolate and evangelization. In addition, she began by doing what she knew how to do and what was needed in times of emergency, which was sewing clothes for soldiers at the front.
However, in that improvised tailor's shop the first nucleus of the congregation of the Daughters of St Paul was born after a few short months. To her and other companions, all with a modest education (in her case even "self-taught") Fr. Alberione entrusted the technical production of the diocesan newspaper La Valsusa. In 1922, together with eight other sisters, Teresa made her private profession of vows and committed herself with them to serve the cause of the "good press", becoming Maestra Thecla, the first Superior General of the new congregation. Hence, the young aspiring dressmaker's life became an epic story.
At first, Fr. Alberione's vision encountered certain obstacles, even in the Church. The world of communication was viewed with mistrust and then it was perplexing that women were given importance in the project, even being employed, as early as the 1920s, to go house to house, on foot or by bicycle, to deliver newspapers, magazines and the gospel too; moreover, it was those nuns in Alba who had ink on their hands. However, he and Maestra Thecla pushed straight ahead. There was so much to work to do, whether that be the diocesan newspapers, or the weekly "Famiglia Cristiana" (1931), and the other publications too.
Fr Alberione, who was beatified in 2003, showed infinite horizons to the Pauline Family. Maestra Thecla believed him and she herself, with her modest education -but so much wisdom-, trained generations of women writers for the various Pauline publications, bookshop managers, experts in the distribution of books and periodicals, cinema and radio staff. "She had only one strategy: will this initiative do any good? Then let's do it. Is there no money? If it comes from God, money will be found", recalls the current Superior General of the Daughters of St Paul, Sister Anna Caiazza. She did not know her, but it was Maestra Thecla's biography that first won over her parents, causing them to overcome all resistance to the choice of consecrated life, and then she herself in the decision to enter the Pauline Family.
Commencing in the 1930s, Maestra Thecla's travels took her from one end of the world to the other. First by ship and then by plane, to visit countries on the five continents where her "daughters" had settled. She was moved by the boundless expanse of cities in Latin America, the United States, and Asian countries. "So many people, so many souls", she exclaimed, "I wish I could print for the sisters, considering how many needs and requirements there are in the world".
Once, when she arrived in Brazil, she was told that the mass of people were illiterate, who were unable to read neither books nor newspapers, but who were fond of music and listened to the radio. "Then put the Gospel on a record!" she replied, with that extraordinary insight that united her to Fr. Alberione. Like him, she wanted to address the men and women of the day, with the tools that contemporaneity offered, so as to intercept their needs, and their unexpressed questions.
Maestra Thecla was proclaimed venerable in 1991. First and foremost, she was a mother; "When she met her sisters", continues Sister Anna Caiazza, "she never asked: how many Masses have you attended today? But, looking into their eyes, and asked how are you, how are your parents?". How much Fr. Alberione and Maestra Thecla were ahead of their time is shown by the December 1963 date. It was only then, with the Second Vatican Council, that the decree Inter Mirifica sanctioned the goodness of the media at the service of evangelization. Maestra Thecla had suffered a cerebral vasospasm in June of the same year and died a few months later, in February 1964, in Albano.
by ANTONELLA MARIANI
A journalist with the Italian national newspaper, "Avvenire"

#sistersproject

The Good Press

The Pauline Family, founded from 1914 to 1959, is linked through its five religious congregations, four Institutes of Consecrated Secular Life and a Lay Movement by the same spirituality. Of the five religious congregations, three are female: the Daughters of St. Paul, the Pious Disciples of the Divine Master and the Sisters of Jesus the Good Shepherd. The Daughters of St. Paul are present in 50 countries on five continents. They have 1,912 professed sisters and 208 communities. They have 29 publishing centers, 268 multimedia centers and 32 distribution agencies. In addition, they have 10 magazines, five communication centers and two Bible centers. In some countries, they produce programmes for radio and television