Pope Francis to visit Hungary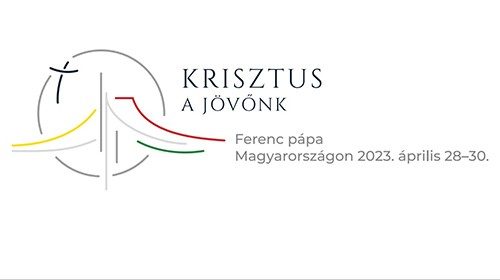 03 March 2023
Accepting the invitation of the civil and ecclesial Authorities, His Holiness Pope Francis will make an Apostolic Journey to Hungary from 28 to 30 April 2023, visiting the city of Budapest.
The last time the Holy Father was in Budapest was on 12 September 2021, when he celebrated Holy Mass at the International Eucharistic Congress before continuing on to Slovakia for his Apostolic Journey.
"Christ is our future" is the motto that will accompany Pope Francis' 41st Apostolic Journey abroad. It appears in the logo for the upcoming visit. The central part of the logo is the Budapest Chain Bridge, the oldest Hungarian bridge over the Danube. A symbol of the capital city and the Nation, it was originally built to connect the cities of Buda and Pest. It evokes the idea, often referred to by the Holy Father, of the importance of building bridges between people.
The colours of the Holy See (yellow and white) and of Hungary (red, white and green) meet on the two piers of the bridge. The logo is bordered by a circle symbolizing both the Eucharist and the world redeemed by Christ.
On the left side of the circle is a cross recalling the Address given by Pope Francis on 12 September 2021 in Budapest, in which he expressed the hope that the cross might become a bridge between the past and the future.