Inauguration of the Abrahamic Family House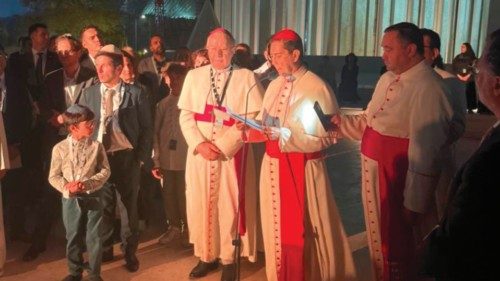 24 February 2023
The Abrahamic Family House, an interreligious complex inspired by the Document on Human Fraternity signed by Pope Francis and the Grand Imam of Al-Azhar four years ago, was inaugurated in the United Arab Emirates on Thursday, 16 February, by Sheikh Saif bin Zayed, uae Deputy Prime Minister and Minister of Interior, and Sheikh Nahyan bin Mubarak, Minister of Tolerance and Co-existence, in the presence of Cardinal Miguel Ángel Ayuso Guixot, Prefect of the Dicastery for Interreligious Dialogue, and Bishop Paul Hinder o.f.m . Cap., Vicar Apostolic emeritus of Southern Arabia. Built on Saadiyat Island, Abu Dhabi, and designed by Sir David Adjaye, the centre houses a Christian church, a mosque and a synagogue, all of which share not only the same foundations, but also a raised landscaped garden that will serve as a joint gathering space.
Speaking at the centre's first Forum, the day after the inauguration, Cardinal Guixot, said that while we often build walls to separate people instead of bridges to connect them, all the walls raised in the Abrahamic Family House contradict this divisive logic of power and hatred. Indeed, precisely because human beings today desire a more peaceful and harmonious co-existence, the role of religions in healing the wounds of the world and building bridges among differences, is more urgent now than ever, he noted. "The Abrahamic Family House is a concrete example for people of different religions, cultures, traditions and beliefs to return to the essential: love of neighbour". It is a historic initiative that is open to all and faithfully reflects values of tolerance and hospitality, the Cardinal continued, explaining that the Document on Human Fraternity is not a map as much as a daily commitment to work together for the common good and contribute to healing our fragile world.
Echoing this view, Sheikh Nahyan bin Mubarak, said: "We recognise that our contemporary world, even after centuries of civilisation, is plagued by seemingly intolerable societal problems. We are of the view that our world needs to hear our dialogue. Our world needs to see our commitment to peace and prosperity … and our respect for each other and our world needs to be aware of the impact of our own action in the face of misunderstanding, conflict, and discrimination".
Also addressing the Forum, Sir Ephraim Mirvis, Chief Rabbi of the United Hebrew Congregations of the Commonwealth, described the Abrahamic Family House as a "remarkable monument to loving kindness", inviting everyone "to use this extraordinary and sacred site to promote harmony and peace. In a world in which differences can separate us, let us say here that our shared values shall exist for the sake of our universal aspirations", he said.
The three houses of worship, — Saint Francis of Assisi Church, Moses Ben Maimon Synagogue and Imam al-Tayeb Mosque — were designed to be identical in external dimensions to ensure than no building is more dominant than the others, although each is unique in its structure. Sir Adjaye explained that as an architect, he wanted to "create a building that starts to dissolve the notion of hierarchical difference … something higher, that enhances the richness of human life". In addition to these places of worship, the Abrahamic Family House includes a fourth space that is not dedicated to any specific religion which will serve as an educational centre aimed at bringing people together, and host a variety of events.
Cardinal Michael L. Fitzgerald, M. Afr., Apostolic Nuncio emeritus of Egypt, led the first prayer service to be held in the new Saint Francis Church on Sunday, 19 February, and conveyed the Pope's greetings. Among the many dignitaries, clergy and representatives present at the thanksgiving service, were Msgr Yoannis Lahzi Gaid, Member of the Higher Committee of Human Fraternity, Bishop Paolo Martinelli, Vicar Apostolic of Southern Arabia, Bishop Hinder and Msgr Kryspin Dubiel, Charges D'Affaires of the Apostolic Nunciature in the uae .
The Abrahamic Family House will open to the public on 1 March.