Ecumenical Prayer at John Garang Mausoleum
While there is no peace we all suffer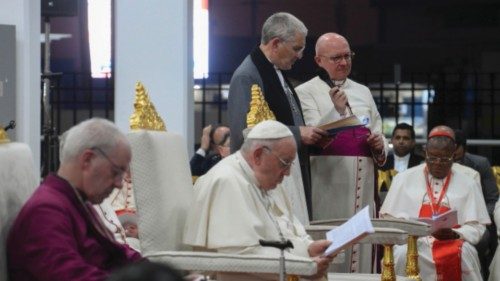 10 February 2023
The following is the English text of Reverend Iain Greenshields, Moderator of the General Assembly of the Church of Scotland's remarks, during the Ecumenical Prayer Service at Juba's "John Garang" Mausoleum on Saturday evening, 4 February.
Brothers and sisters in Christ, it is a great pleasure and privilege to join the Archbishop and the Pope in this historic pilgrimage for peace. In doing so, with you, we are honouring our Lord Jesus, you as His people, and this youngest country in our world.
We recognise that we are here at your invitation and thank you for this. This visit was promised during the spiritual retreat at the Vatican in 2019. We are visiting your country to emphasise our commitment, with you, to peace in South Sudan — and to encourage and stand in solidarity with you, the people who are still suffering profoundly from the effects of violence, floods and famine.
In the unity of Faith, we offer solidarity with the Churches, the people and leaders of this country who genuinely seek change through peace for a future which is optimistic and hopeful.
There is a strong legacy of churches working together for peace and reconciliation in South Sudan — they played a key role in the nation achieving independence peacefully. We hope to encourage the continued unity of churches for the common good in South Sudan, for justice and fullness of life for all the people.
We pray, seeking the Holy Spirit's guidance and wisdom, that this ecumenical pilgrimage of peace to South Sudan will enhance in all of us the spirit of change; to empower us all to seek hope, reconciliation, forgiveness, justice, and unity in and through our Lord Jesus Christ.
While there is no peace, we all suffer. Jesus, in Matthew's gospel, calls us all to be peacemakers; with one another, with our leaders and even with our enemies. God is a God of the generations, who sees our hearts and offers each generation new life, new hope, new opportunities in Jesus Christ.
Let us turn to God and confess our faith together.