The Holy Father's prayer intention for the month of February
That parishes may be communities of faith fraternity and welcome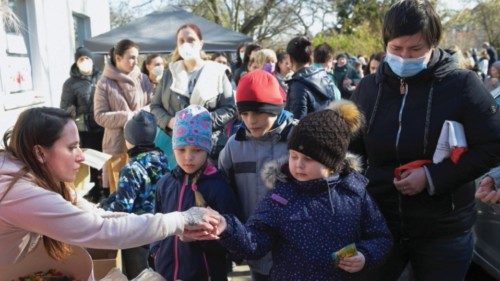 10 February 2023
In his prayer intention for the month of February, Pope Francis prays "that parishes, placing communion at the centre, may increasingly become communities of faith, fraternity and welcome towards those most in need". The video begins with a short reel of different parish communities around the world. "Sometimes I think that we should put a sign on the door of parishes that says, 'Free admission'", the Pope begins. He explains that "parishes should be close-knit communities, without bureaucracy, people-centred — a place where the gift of the sacraments can be found".
The video then transitions to show different aspects of parish community life, including Mass, shared meals and activities for children. Parishes, the Pope says, "have to become once again schools of service and generosity, with their doors always open to those who are excluded. And to those included. To all". Parishes, he continues, "are not a club for the few, which give a certain kind of social belonging".
The Holy Father stresses the need to "be daring" and to "rethink the style of parochial communities".
Commenting on this month's prayer intention, Fr Frédéric Fornos, sj , Director of the Worldwide Prayer Network, affirmed that listening, prayer and communion "are essential synodal characteristics for parish life", and that "we are truly a community when we know each other, know each other's names, needs and voices".
Available online at www.thepopevideo.org and translated into 23 languages, the video for the prayer intention for February was created and produced by the Pope's Worldwide Prayer Network, in cooperation with La Machi Agency and the Dicastery for Communication.