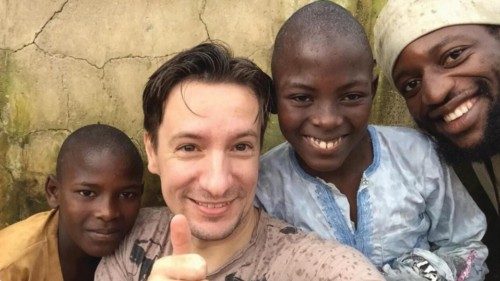 03 February 2023
It was on 22 February 2021 that Italian Ambassador Luca Attanasio lost his life in a tragic ambush on the road between Goma and Rutshuru in the east of the Democratic Republic of the Congo. He was 42 years old and one of the youngest Italian ambassadors in the world. Attanasio was not only a man of peace, but also a man of faith, whose witness began in the Limbiate oratory and continued in Taizé meetings. A good person, a dreamer who looked at the world as if it were a beautiful garden, humble and sensitive: this is how his wife, Zakia Seddiki, describes him. She is the founder and president of 'Mama Sofia', an institution that aims to improve the lives of women and children in difficulty in the Democratic Republic of the Congo with projects in the fields of health, education and access to water. It has also become a Foundation that is present in Italy, she says in this interview with L'Osservatore Romano on the second anniversary of the barbaric attack, as a message of rebirth to defend the value of peace in memory of Luca, the man and the diplomat. Attanasio's passing, like that of the Carabinieri police officer Vittorio Iacovacci and the Congolese driver Mustapha Milambo, reminds us that there is an Italy that works in Africa and for Africa, far from the spotlight of the news and often forgotten by politics and information.
Almost two years have passed since Luca was killed. What memories do you have of the Democratic Republic of the Congo?
In spite of everything, it was a good experience for us, both personally and professionally. Living in the country, we had the opportunity to create a relationship with many people and to share happy, as well as painful, moments with them. Obviously what happened changed our lives, but the Congolese people, who are not to blame, will always remain in my heart and I will work even harder to be close to the weakest. As Luca would have wanted.
What did it mean for Luca to be ambassador in a country with such a tormented history? How did he experience this service?
He was experiencing this service as an opportunity for personal and professional growth, also because it was his first time as ambassador and he therefore felt a great responsibility. He was full of enthusiasm and motivation. And I must say that what also helped him a lot was having experienced that reality while being with his family. It was a challenge, because the ambassador had been missing in the country for a couple of years, so Luca had to work a lot, especially to restore certainty to the Italians living there. He arrived with a positive spirit, even though he was aware of the complexities of the country, where suffering is widespread.
In the official biography, Luca Attanasio, story of an ambassador of peace, by journalist Fabio Marchese Ragona, with whom you collaborated, you say that your husband "was the ambassador whose phone number everyone had". What was his best quality?
He knew how to listen well to people and also had the strength to unite them. Luca could always find a way to bring people together, he would do a recap and always achieved good results.
He was also cheerful and, even when he was in difficult situations, he managed to deal with them positively, carrying out his delicate task while remaining himself. He used his job as a diplomat well so as to be useful to others.
How much did attending the oratory, the parish and his living the faith play in Luca's formation?
In my opinion they influenced a great deal, because those teachings accompanied him even as an adult and he put them into practice. Luca always kept in touch with his parish priest and the people who attended the oratory and church in Limbiate with him. Then, in the Democratic Republic of the Congo, due to work, he found himself often talking to and listening to the Italian missionaries scattered around the country who, with little means, do great things. Here too he listened to them with great attention and tried to understand what their needs were.
What country will Pope Francis find?
He will find a people who are in great need of his message of hope and peace. He will find much enthusiasm and great expectation from everyone. He will surely find eyes of people who are suffering, eyes that no longer have tears for what they are experiencing. He will find a people who will not be left alone, who need this sure hand to accompany them into the future, because they are living through a war among forgotten wars. And I am sure that by praying together with these people, the Pope will give them hope and perhaps even change the hearts of many to live again in peace. Happy mission!
Silvina Pérez