The Memory
Recounted in a novel, the story of Fortunata Bakhita Quascè
To combat slavery yesterday and today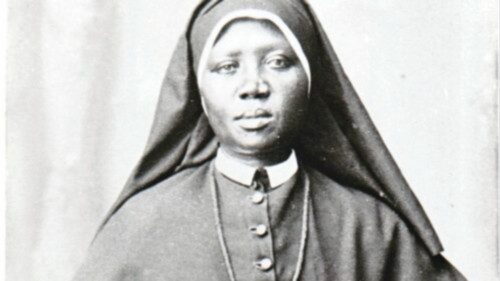 04 February 2023
Bakhita Quascè was the first African Combonian missionary. She left Africa when she was little more than a child after being snatched from slavery. She grew up in Italy, and returned to Africa as a young laywoman and then became a nun there. Bakhita suffered a lot; she was imprisoned twice, tortured, experienced deprivation, hardship and disappointing misunderstandings at the end of her life, even from her superiors. Her life story, which is full and extraordinary, is recounted by the Greek-born journalist Maria Tatsos in the book Fortunata - Bakhita Quascè, published by Combonifem.
This is a novel, not a biography. Only a few secondary characters are invented, like the narrator Maria Amina, a Catholic Christian of Dinka origin, a tribe from South Sudan, who was an affectionate pupil of Fortunata Quascè.
Otherwise everything else is true, even that which leaves a bitter taste in the reader's mouth.
The book is set in the middle of the 19th century, initially in Sudan where Fortunata was born, around 1845. She became a child slave early on, kidnapped by traffickers, but then her freedom was paid for by a Franciscan, Father Geremia da Livorno. She was about eight years old when, together with nine other girls, she arrived in Italy, in Verona, at the Mazza Institute. Fortunata grew up and studied there, learnt Italian perfectly with a slight Veneto accent, and became a teacher. In the story's background is the enormous figure of Daniele Comboni, who at the age of 26, on September 8, 1857, set off on his first journey to central Africa, to an area corresponding to today's Sudan. He is the man who, on his return from that first journey, coined his motto O Nigrizia o morte [Either Nigrizia or Death] and in 1854 conceived the Plan for the regeneration of Africa with Africa itself. A priest, then a bishop, then a saint (canonised by Pope John Paul II in 2002) who made no distinction between boys and girls. In his plan "envisaged an institute for the training of black girls as governesses, teachers and mothers of families and at the same time, only for those who wished it, he dreamed of establishing a section of the Virgins of Charity. His idea was to create a body of nuns destined to perform the most important functions, such as running girls' schools and representing a model of a Catholic, charitable and generous woman among the most remote tribes". Fortunata adhered to the Comboni vision; she was 19 years old, educated, bilingual, spoke Italian and Arabic, and decided to return to the land of her birth to dedicate herself to the education of girls who had been freed from slavery. It was maktub, "it was written". At the age of 38, in 1882, she became a nun, the first African Pia Madre della Nigrizia, the institute founded by Comboni. She was consecrated on Easter Day in El Obeid, the capital of Kordofan, a province in the centre of Sudan. She did not have an easy life. She suffered a second imprisonment, during the Mahdist war between the troops of Muhammad Ahmad (the Mahdi) and the Anglo-Egyptian army that occupied Sudan at the end of the 19th century. The Mahdists tried to make her convert to Islam, they whipped her, humiliated her and threaten her with violence. She resisted, found some peace, returned to teach at a mission in Aswan. In 1896, while she was in Cairo to buy new glasses, they took advantage of her absence to take away the direction of the school to which she had been dedicated for a few years. The Christian-Coptic schoolgirls did not want a black teacher, their parents asked for a white one instead, and the superior and bishop did not protect Fortunata. She got angry and protested, believing herself to be "the victim of an injustice, a decision in clear breach of Don Daniele's plan" in the words of a nun friend of hers and quoted in the book.
Gabriella Bottani, the Combonian missionary who from 2015 to 2022 coordinated Talitha Kum, the sisters' anti-trafficking network, observes in the afterword, "She was a woman courageous in love and capable of disobeying unjust and iniquitous orders, which would have led her to betray the gift of God in her, in us Combonian missionary sisters. To have been born and to have lived in the 19th century, Sister Fortunata's life is surprisingly relevant for everyone today".
#SISTERSPROJECT