Testimonies
María Nieves Tapia: the true service of education is service education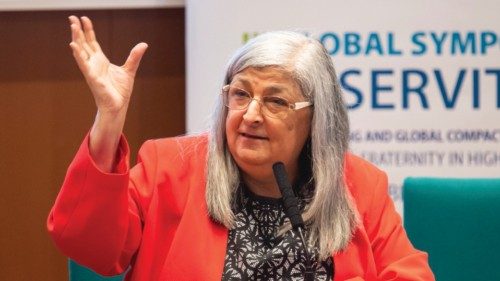 07 January 2023
Born into a Catholic family in Argentina, she is the eldest of seven siblings. At just eleven years old, María Nieves Tapia had already a clear idea about her vocation. She wanted to become a teacher and to travel a lot in order to get to know and be enriched by different experiences. With a degree in History, she first worked as a teacher in universities and various secondary schools. Between 1997 and 2010, after familiarizing herself with the pedagogical proposal of Solidarity Learning-Service (AYSS ) she started working in the public sector, initiating and coordinating Solidarity Education programmes at the Ministry of Education of Argentina. In February 2002, she founded and has since directed the Latin American Centre for Learning and Solidarity Service (Clayss).
The service-learning pedagogy enables children and young people to develop knowledge, skills and competences through a practice of service in solidarity with the community. The potential of this pedagogy for educational change is recognised by UNESCO. Service-learning is based on an idea of horizontal solidarity conceived as a personal, intercultural and intergenerational encounter and exchange. In this way, projects not only contribute to addressing various social and environmental problems, but also optimize the development of knowledge, skills and attitudes, motivating students to investigate and engage in solidarity in their own social context.
"In recent years, Pope Francis has been very insistent on the need for the Church to go towards the peripheries and has repeatedly asked educational institutions to offer their students the opportunity to engage their heads, hands and hearts in addressing the challenges and problems of contemporary societies", says María Nieves.
In 2019, the Porticus Foundation decided to launch Uniservitate, a global programme coordinated by Clayss, which aims to promote the formalisation of innovative education with a focus on solidarity learning and service in Catholic Institutions of Higher Studies. In addition, last October, the III Uniservitate Global Symposium was held at the Lumsa University in Rome, in collaboration with the International Federation of Catholic Universities and in close adherence to the Global Educational Pact launched by Pope Francis.