The Holy Father honours three exemplars of Christian charity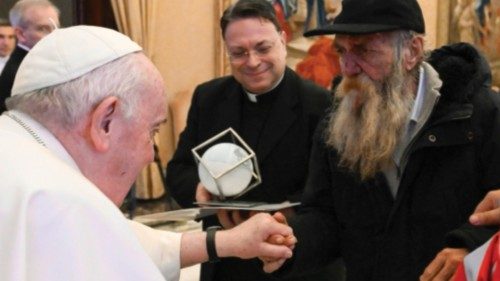 23 December 2022
In recalling Mother Teresa of Calcutta, and in keeping with his constant care for others, Pope Francis chose to celebrate his 86th birthday on Saturday, 17 December, by honouring three people who "live charity on behalf of the poorest of the poor". They are Fr Hanna Jallouf, a Franciscan dedicated to serving people in need in Syria; Gian Piero (known as Wué), a homeless man who gives part of the donations he receives to those who are poorer than him; and Silvano Pedrollo, who builds schools, wells and healthcare facilities in the forgotten corners of the world. The Pope expressed his gratitude by donating to each person a small globe fixed inside a cube — a symbol of the love that keeps the world turning. The following is a translation of the Pope's words, which he shared in the Consistory Hall.
I thank you for this visit so full of affection and full of messages: the message of poverty, the message of closeness, the message of brotherhood, the message of prayer, which is the legacy that Mother Teresa always gave us. Even prayer in dark moments, because this woman experienced true spiritual tempests with darkness inside, but she kept praying. Courageous!
May Mother Teresa, from heaven, help us to live out poverty with simplicity and prayer. Thus we can help others, and it is not merely charity, which is a good thing — charity is good, but it is pagan. Closeness, charity with prayer, are Christian. And this is good.
Now I will bless all of you.