Cardinal Konrad Krajewski visits Ischia
To express the Holy Father's 'closeness'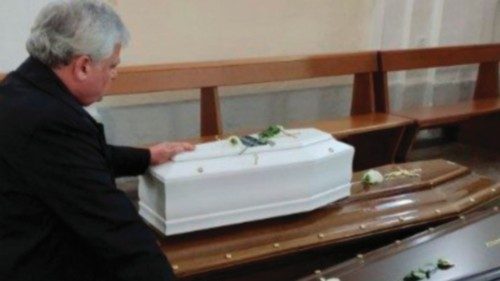 16 December 2022
Cardinal Konrad Krajewski, Prefect of the Dicastery for the Service of Charity, visited the town of Casamicciola Terme on the Italian island of Ischia on Thursday, 8 December, following a devastating landslide that struck the island on 26 November. On Wednesday, 7 December, the island had marked a day of mourning to grieve for the 12 people who lost their lives and the hundreds of people displaced by the torrential rain that caused the landslide.
"Pain cannot be taken away but it can be borne together", Cardinal Krajewski said, as he shared the grief of the bereaved.
He reflected on the fact that his visit to Ischia took place on the Solemnity of the Immaculate Conception. "To undertake this visit on the Solemnity of the Immaculate Conception has a special significance", Cardinal Krajewski said. "In the faces of grandmothers, aunts and women, I saw the ordeal of Mary who lost her son, who accompanied him until his last breath", he added, and then kissed the hands of the bereaved women, sharing in their grief.
Comfort and hope from the Pope
Pope Francis "desires that those affected by this grief feel his closeness", Cardinal Krajewski told the people of Ischia. He donated a Rosary bead, blessed by the Pope, to every family "so that they may feel the comfort of his prayer and entrust themselves with hope to the Virgin Mother".
The day after the tragic event, following the Angelus, Pope Francis had asked everyone to remember and pray for the victims of the heavy rains, for those suffering, and all the rescue workers.
The landslide affected 900 buildings in the town of Casamicciola.