Sister Marta Meshko's commitment in helping to rebuild houses destroyed by missile strikes
Rebuilding homes and hope in Ukraine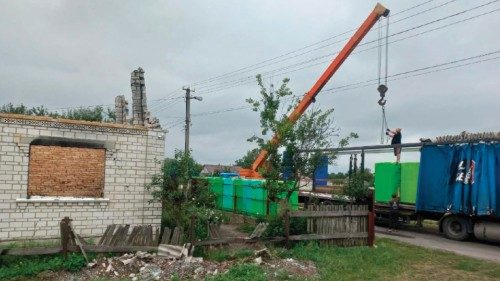 02 December 2022
In Ukraine, winter is just around the corner. In peacetime, this moment brought the joy of seeing big snowflakes fall from the sky, feeling snow crunching underfoot, spending time with family in heated homes over the course of long winter evenings.
But today, sadly, it is a moment of terror. For many Ukrainians, the only thought now is how to survive the winter cold, which sometimes lasts even until April, with temperatures going as low as —25° C. Many power plants and central heating systems, moreover, have been destroyed by Russian missile strikes. The most vulnerable of all are those who have lost their houses to the bombs. In the Kyiv region alone, during the first months of the Russian invasion, which began last 24 February, more than 12,000 houses were damaged, and around 5,000 completely destroyed. The same fate befell hundreds of multi-floor buildings. Not all their inhabitants, however, decided to flee: many remained on their own land, to rebuild their homes and lives.
"One woman told me that she saw her house burn down completely in 20 minutes. Only a small hut remains, where she now lives with her husband. It is very painful for them to wake up every morning and see only ruins around them". These are the words of Sister Marta Meshko of the Sisters of Mary of the Miraculous Medal, a congregation founded in Slovenia which has been serving in Kyiv since 2005. For the past few months, together with volunteers from the organization De Paul Ukraine, she has been providing building materials to villagers around the Ukrainian capital so that they can start rebuilding their homes.
"It is a true miracle", the nun emphasises, "to see how, after losing everything, instead of complaining about the evil they have unjustly suffered, these people immediately react to a gesture of kindness by finding hope in life again. It moves me to see how, in this tragic situation, they manage to demonstrate gratitude and hope".
Sister Marta explains that the idea of helping in this way came from a realization she had on her return journey to Kyiv from the Zakarpattia region, where her community spent the first three months of the invasion, praying day and night. Her first thought was "to live the Gospel here and now, even in these conditions". This occurred to her in a moment of prayer, as she was asking God how her community could restart its mission in the capital. The answer as to what concrete help they could offer the inhabitants came when Sister Marta went, with volunteers, to bring food to the residents of the villages of Moschchun and Zahaltsi, on the outskirts of Kyiv. There, a woman named Olha showed them her house, which had been completely destroyed. "If we at least had the materials, we could begin to rebuild it ourselves, and finish it before winter". This is what Olha told Sister Marta, and, in those words, she discovered what she should do with the money that her congregation had made available to the nuns in Ukraine to use for war victims. Sister Marta thus decided to buy materials to help the people rebuild their homes, asking them individually what they needed.
In the face of suffering, the discernment process happens fast. There is no time to waste, and so, just a day later, Sister Marta and the volunteers began to search for the material requested by the villagers. "For the people to whom we brought the materials", Sister Marta explains, "this represented an impetus that gave them hope and joy. They could begin the work. We saw that our help generated a chain of goodness. For example, one family to whom we brought aerated concrete blocks then helped another family rebuild their roof. So, there was a lot of solidarity and a lot of goodness. And experiencing it under these conditions felt like a miracle".
Sister Marta also explains that their initiative is not aimed at the masses; they prefer to support fewer people, so that they can foster personal connections, be able to visit them and talk to them. This way, the nun is also able to carry out her pastoral mission: she is able to listen to the suffering endured by the inhabitants of these villages near the capital during its occupation by the Russian military. "One woman, Halyna, told me", the nun recalls, "that when the Russians entered the village, she and her family hid in the cellar, in the cold. They could only get out at night to cook something. Her brother Leonid, a brave man, went around the village to feed the animals: cows, chickens, pigs, abandoned in the stables, and also the dogs and cats left behind by their owners who had escaped the attackers. Halyna, crying, told me that the Russian military shot one of her acquaintances just for failing to open a gate as quickly as they asked her to".
Sister Marta also notes that, although Ukrainians speak openly about their pain, they are not desperate at heart, and manage to show deep gratitude when somebody lends them a hand. "I remember Sina, a grandmother, more than 80 years old, who lives in the village of Moschchun. Her house was also destroyed, and she went to live in a hut. We decided to buy a small pre-made wooden house for her, and she was so moved with joy. She couldn't believe that we'd done this for her. These people, in a short period, have experienced very strong emotions, contradictory and not easy to process. At the beginning of the year, they saw their property destroyed, and now they meet somebody who helps them and expects nothing in return". Moreover, Sister Marta is offering her service, at a time in which one hears the air-raid alarm almost every day, and Russian missiles continue to destroy civilian infrastructure and strike people's homes. "I am aware," she concludes, "that I am not alone. I know that the Lord is with me and with the people I help. What's more, through prayer I can bring their pain to God, who can give them the strength to go on and not focus on evil. A real temptation is to analyse evil, to try to understand it. But evil does not have any logic, and one cannot understand it. Instead, one needs to direct one's energy and thoughts toward action, understand the concrete needs of people, and try to help them".
#sistersproject
By Svitlana Dukhovych