The story of the religious sister Pope Francis spoke about
Mama Maria and her daughter Félicité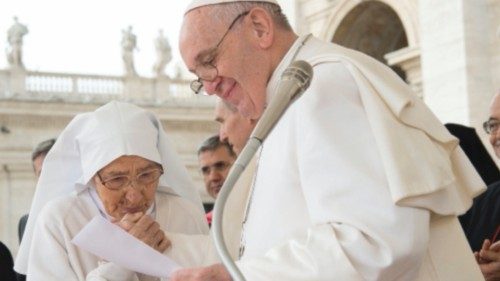 25 November 2022
Mama Maria — that's what people in Africa call Sr Maria Concetta Esu, who, with her dust-covered clothing, is an icon for Pope Francis. On Saturday morning, 19 November, speaking to the missionary community of Doctors with Africa, the Pope shared the witness of this 88-year-old religious sister of the Congregation of the Daughters of Saint Joseph of Genoni. He met her in Bangui, the capital of the Democratic Republic of the Congo, seven years ago. He met her on three other occasions, the most recent in Saint Peter's Square, at the General Audience on 27 March 2019 (pictured). On that occasion he bestowed upon her the Pro ecclesia et Pontifice award.
But what's so special about Mama Maria? That Wednesday in Saint Peter's Square, as is her wont, she was reluctant to talk about herself: "I have no merits; everything is done through God's grace". Her accent at times gives away her Sardinian roots. "I have been in Africa since 1959. I was 25 years old, and I try like crazy to bring love and peace especially to the mothers and children I encounter. That's it". That's it? The numbers speak for themselves. She kept track of the babies she helped deliver until 2014: 33,777. Then she stopped counting.
At 88 years old, she still takes the canoe and rows down the Ubangi River, from Zongo, to Bangui "because poor people never leave the forest, and someone has to go grocery shopping". That's her story. And this is her perspective: "I've given my life for Africa and I want to close my eyes in that land among my people, the mothers I've helped, and the children, the four generations I've seen be born and grow". The Pope recounted one of Mama Maria's final courageous decisions, a decision with a name: Félicité. "She is the little girl I adopted. She was born on 30 June 2012. Her mother died the day after she was born, and no one knows who her father is. I named her Félicité to wish her a life of happiness".
Giampaolo Mattei