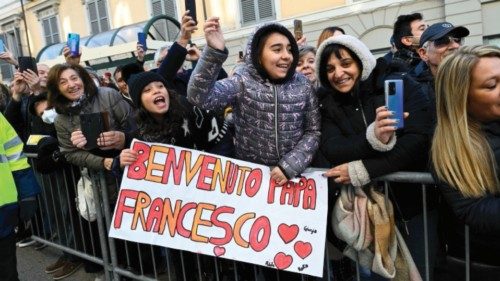 25 November 2022
Pope Francis arrived in Portacomaro, near Asti, for a private visit to his family members, on the occasion of his cousin Carla Rabezzana's 90th birthday.
On Saturday, 19 November, the Pope was greeted festively but also with the delicate discretion of the people of Piedmont. He made a brief visit to the parish church of Our Lady of the Angels, a place especially dear to him because his family used to pray there, particularly in the little chapel where there is a small statue of the Mother of God. Accompanying him was the parish priest, Fr Luigino Trinchero. The Pope also received a special greeting from 100-year-old Luigina Gallo.
The Holy Father travelled by car to Portacomaro to meet his cousin Carla Rabezzana for lunch. The woman, who welcomed him at the front door, turned 90 last 8 November. In the afternoon, the Pope had a private meeting with family members.
To embrace the Diocesan community from which his family left to emigrate to Argentina, on Sunday, 20 November, Solemnity of Christ the King, Pope Francis presided at the Eucharistic celebration in Asti Cathedral. During the celebration, he conferred the ministry of acolyte to Mr Stefano Accornero, who immediately began his ministry by distributing Communion. The Pope himself handed the 24-year-old the hosts with a paternal gesture of encouragement and said, "Take this vessel with bread for the celebration of the Eucharist. Make your life worthy of your service at the table of the Lord and of his Church". Mr Accornero, the only seminarian from Asti, will be ordained a priest in 2024.
Significant too was the participation of over 200 young people from the Diocese on the occasion of World Youth Day.