Nativity Scene and Christmas Tree 2022 to be unveiled in Saint Peter's Square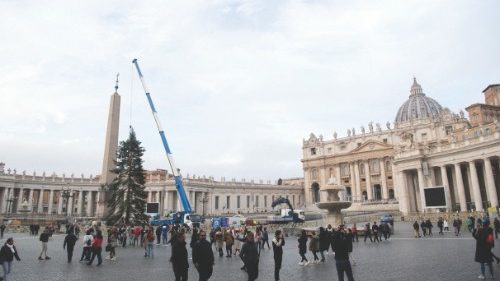 18 November 2022
The Nativity Scene that will adorn Saint Peter's Square this Christmas comes from the northern Italian town of Sutrio, in the Friuli Venezia-Giulia region. The Christmas tree instead, is from the central Italian town of Rosello, in the Abruzzo region. The majestic white fir, about 30 metres tall, will be installed next to the Nativity Scene.
The cedar statues in the crèche are hand-carved, using wood obtained from felling organized by expert gardeners who care for public or private gardens. It is a method that fully respects the environment, as no trees are cut down to make the Nativity Scene. Baby Jesus is depicted in the classic way: wrapped in swaddling clothes and lying in a manger. Among the characters are travelling merchants from ancient times. Carrying a wooden chest on their shoulders, these merchants would travel on foot from village to village, to sell typical products made by their different communities. During their travels, they were hosted by families who bought — or more often traded — their wares.
Another Nativity Scene, offered by the government of Guatemala, will be set up in the Vatican's Paul VI Hall. This crèche will feature the Holy Family and three angels, all hand-made by Guatemalan artisans using wood and coloured fabrics, and especially the colour gold.
Cardinal Fernando Vérgez Alzaga, President of the Governorate of Vatican City State, will preside at the traditional lighting of the Nativity Scene and Christmas Tree in Saint Peter's Square, on Saturday, 3 December, at 5 p.m.
The tree and Nativity Scenes will remain on display until Sunday, 8 January 2023, the Baptism of the Lord.