Theme and logo for the Pope's Apostolic Journey to Bahrain
Peace on earth to people of goodwill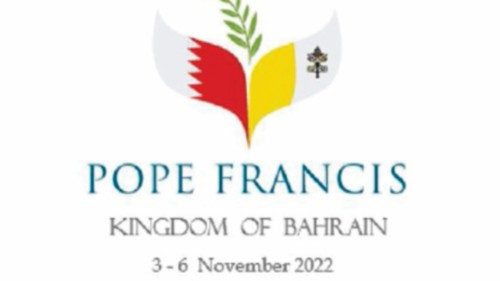 07 October 2022
Pope Francis is scheduled to complete the 39th international Apostolic Journey of his pontificate from 3 to 6 November, when he will travel to the Kingdom of Bahrain on the occasion of the "Bahrain Forum for Dialogue: East and West for Human Coexistence".
The theme of this trip is taken from the Gospel of Luke: "Peace on earth to people of goodwill"(2:14). The logo shows the flags of the Kingdom of Bahrain and of the Holy See, represented as two hands open towards God, symbolizing the commitment of peoples and nations to encounter each other free from prejudice and in a spirit of openness as "brothers and sisters". The fruit of fraternal encounter is peace, symbolized by the olive branch. The words "Pope Francis" are coloured blue to show that the Apostolic Journey is entrusted to the intercession of the Blessed Virgin Mary, who is venerated as "Our Lady of Arabia".
During his trip, the Holy Father will meet with the King of Bahrain, diplomats, civil authorities, and key religious figures, including the Grand Imam of Al-Azhar and members of the Muslim Council of Elders. He will also participate in the Bahrain Forum for Dialogue, celebrate Holy Mass and meet with young people and Catholic men and women religious and pastoral workers.