From Auxilium to the World Athletics Championships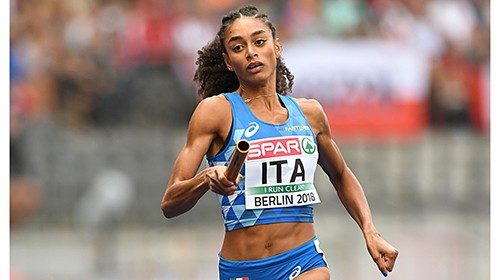 01 October 2022
She is one of four Italians who, during the Mediterranean Games in July 2018, reminded us once again that Italy is a plural and multicultural nation. Maria Benedicta Chigbolu is the second of six children (three brothers and three sisters) of a religious teacher, Paola, and a Nigerian international consultant, Augustine. Her grandfather Julius participated in the 1956 Olympic Games in Melbourne, reaching the final in the high jump and was president of the National Athletics Federation in Nigeria too.
Born in Rome in 1989, she has played many different sports, which include karate, swimming, tennis and contemporary dance. Then at the age of 16, she headed to the athletics track, going onto win medals at the Italian, European and world championships. The Italian sprinter is a former pupil of the Salesian Sisters. Maria Benedicta Chigbolu says, "I got to know the Daughters of Mary Help of Christians thanks to my mother. Like her, I studied at the Pontifical Faculty of Educational Sciences Auxilium in Rome, where I graduated as a professional educator. I recall a familiar and welcoming environment, run by people who have a great passion for education and for passing it on".
How much did the training influence you as a person, and in what way?
"It has influenced me a lot, and given me a complete formation of the individual. I think I am a much more empathetic person and more attentive to situations different from my own".
You are a successful sportswoman. What advice would you give to women who feel marginalized, and not in control of their own lives?
"I believe that every person has potential. I would advise them to find a way to cultivate it within their possibilities, to push for their dreams and goals, confront the difficulties that are often part of our journey".
Have you ever felt like a "foreigner" in Italy?
"Actually, I have never felt like a foreigner, I was born in Rome and it has always been my home, I have never experienced any problems".
Do you have your own spirituality? What do you believe in?
"I had a Catholic Christian upbringing and was part of the Neocatechumenal Way for many years, I believe in God".
(Vittoria Prisciandaro)