Pope Francis begins his Journey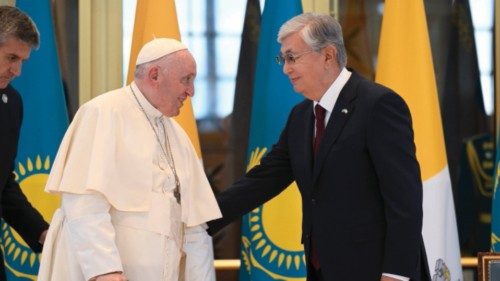 16 September 2022
On the eve of his 38th International Apostolic Journey as Pontiff, Pope Francis on Monday afternoon, 12 September, went — according to his custom — to the Basilica of Saint Mary Major to entrust his visit to Our Lady. On Tuesday morning, 13 September, he departed from Rome's Fiumicino airport at around 7:30, to begin his three-day trip to central Asia.
He travelled to Kazakhstan to participate in the VII Congress of Leaders of World and Traditional Religions, where leaders discussed ways to promote peace, end conflicts and achieve mutual respect and tolerance between different religious, national and ethnic groups.
The papal plane — an ITA Airways A330 — landed in Nur-Sultan, the Kazakh capital, at around 5:45 p.m., local time, after a roughly 6.5-hour flight. During the flight, the Pope thanked the 80 or so journalists on board for their presence, wished them a good flight and promised to speak with them on the way back to Rome on Thursday, 15 September.
On arrival in Kazakhstan, the Holy Father was welcomed by a delegation of civil and religious leaders, including President Kassym-Jomart Tokayev. He then made a courtesy visit to the Presidential Palace to meet with the country's authorities, civil servants, and diplomatic corps. The Holy Father stayed at the Apostolic Nunciature for the duration of his trip.