In Rio de Janeiro, a free dance school to get young people off the streets
Hope 'on tiptoes'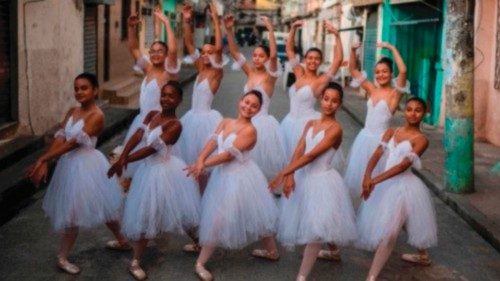 12 August 2022
The mind immediately jumps to Billy Elliot, the 2000 film directed by Stephen Daldry. It tells the story of an English boy from London's peripheries who attends the Royal Ballet School. But this time it isn't simply about cinematography, but about shedding light on reality. A difficult and bitter reality like the one of Manguinho, one of the so-called "favelas" in Rio de Janeiro, Brazil. Here, drug trafficking and shootings are commonplace, and the sound of violence often drowns out and suffocates the melody of dance. But it is precisely here that Manguinhos Ballet operates. The dance school offers free courses to 410 students, representing a small oasis for those dreaming of a future and seeking an alternative to life on the streets. "Dance is my second home", says 16-year-old Vitoria Gomes de Carvalho.
Now however, Manguinhos Ballet risks shutting down: its founder, Daiana Ferreira, died of Covid-19 in January 2021, and the global economic crisis caused by the pandemic has resulted in a financial slowdown. Now there is the danger that the curtain will fall once and for all on the students and their projects. But the school is not giving up and continues to hope, on tip-toes...
Pope Francis' words to the community of Varginha in the Manguinhos neighbourhood, on 25 July 2013, come to mind: "To you and to all, I repeat: never yield to discouragement, do not lose trust, do not allow your hope to be extinguished", the Pontiff said. "Be the first to seek to bring good, do not grow accustomed to evil, but defeat it with good". And perhaps also, we might add, with the beauty of dance.
Isabella Piro