An exceptional Sr Mary-Joy
From farm to firefighting to pony centre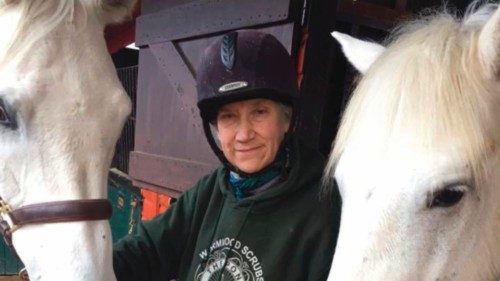 12 August 2022
There is at least one woman religious who wakes each morning and mucks out stables. Christmas is no exception. But there are other reasons as well why Sr Mary-Joy is exceptional.
Mary-Joy was born in 1951 and grew up in Battle in East Sussex, about 80 km south-east of London. Her childhood was not exceptional. Possibly becoming a sister was on her to-do list, along with being an elephant trainer, and participating in the Olympics one day. She struggled in school due to dyslexia that went undiagnosed. She "loved doing things", and discovered that she "learned through horses". Working on the family farm taught her the skills she would eventually put at the service of countless others struggling with various disabilities.
Mary made history in 1976 when she responded to an ad for firefighters, surprising the men who opened the door when she knocked and said she wanted to join them. She thus became the first female firefighter in all of Europe in peacetime. Now her days included working on the farm and going out to put out fires when she was contacted through the pager she was equipped with.
Special-needs children would also come to her family home, where Mary would teach them how to ride. Some came from difficult backgrounds, some came from London, and some would spend the weekend. While the children were on the farm, they delighted in being with the animals, seeing where eggs come from, for example. Through the horses and ponies, Mary was able to help them develop and "give them an opportunity", as she describes. This was, and still remains, very important to her.
"Life was exciting and full of beautiful things", Mary says looking back at her time as a firefighter. Then she adds that being in a few life-threatening situations in which she may not have made it home, introduced a certain seriousness into her life. During that time, her faith and trust in God began to grow along with an "understanding of divine support".
In 1984, shortly after leaving the fire service, Mary entered the Infant Jesus Sisters, a Congregation founded in France by Nicolas Barré, now present in many parts of the world, whose primary apostolate is the education of children, especially the most disadvantaged. Both of her parents had died recently, leaving Mary with the responsibility of finding homes for all the "beautiful animals" that "meant so much" to her before entering the convent. It wouldn't be long before she would once again be surrounded by her "beautiful animals".
A few years later, after a disastrous first assignment in a school in Liverpool, Sr Mary-Joy moved to London. Then in 1989, Sr Mary-Joy recounts, "I was offered the opportunity of taking on three small ponies. I initially declined the opportunity as several years earlier I had given up my own horses to enter religious life. But my Provincial at the time encouraged me, saying that I was good with children and good with horses, and it was important to use the gifts that God had given me". With those three ponies, Sr Mary began what would later become a full-fledged riding school.
The land she found and brought the ponies to had no buildings, stables, toilets, electricity, nothing. After raising money for a Congregation project in Peru, one of the sisters there told her it would be better to raise money for her own project, as they were much better off than she was.
How did she do it? "It was just enthusiasm", she explains, and the good will of many people who have come and gone throughout the years to help her a little bit. From having absolutely nothing in 1989, the Wormwood Scrubs Pony Centre now has a host of horses, ponies, donkeys, dogs and cats, and a full staff. A large indoor riding arena was added in 1994. The Centre is a hub for students from special-needs schools, young adults with mental health and special needs, and learning difficulties. Even people with dementia and children with physical disabilities benefit from equine therapy. Sr Mary-Joy has also developed a life-skills program aiming to benefit those who participate with personal human development, so they can achieve what they want in life. Some of the life skills children can learn are fire safety, first aid, caring for animals, learning about the environment, and, of course, how to care for and ride a pony.
Sr Mary-Joy has a string of initials after her name — IJS (her Congregation initials), BEM (British Empire Medal, awarded by the Queen for "services to Disabled and Disadvantaged Children), Fellow of the RDA (Riding for the Disabled Association), BHS APC (British Horse Society Accredited Professional Coach), Pony Club accredited coach, ABRS Principles DIP, UK Sports Coach Educator L3 M.Uni Open. Due to hard work and dedication, as well as the collaboration of countless volunteers, it is estimated that over 11,000 people have benefited from Sr Mary-Joy's life work.
"If you dream", Sr Mary-Joy says, "it will happen". In her estimation, the Wormwood Scrubs Pony Centre is a miracle — "It never would have happened if I had planned it out", she says. For Sr Mary-Joy, her personal life and religious calling flowed naturally together. In a world in which academic performance is highly prized, she proves that anyone, including people with learning disabilities, can achieve great things.
#sistersproject
By Sr Bernadette Mary Reis, fsp