On the third day of the Holy Father's visit
Indigenous Peoples and grandmothers are a precious treasure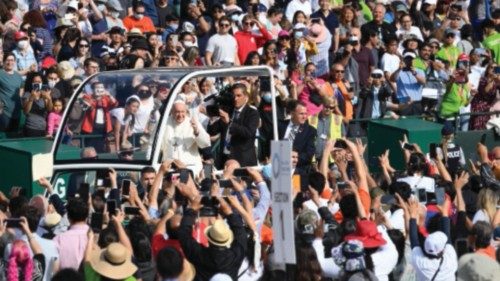 29 July 2022
On Tuesday, 26 July, the third day of his Apostolic Journey in Canada, Pope Francis celebrated Mass in Edmonton's Commonwealth Stadium, for the Feast of Saints Joachim and Anne, Mary's parents. He also presided over the Liturgy of the Word in the afternoon, at Lac Ste. Anne, an important pilgrimage site for Indigenous peoples. Both events focused on Jesus' grandmother, Saint Anne, who is venerated as a guarantor of the transmission of faith, culture, language and love. Devotion to her is widespread among the autochthonous peoples of Canada, thanks to the intuition of a Quebecois Catholic, who launched the pilgrimage in the late 19th century, celebrating the week of her Feast Day, on 26 July. The missionaries were able to link the figure of Saint Anne to Indigenous groups' traditional respect for the elderly and their high esteem for women.
For the first time on this trip, Pope Francis rode through the crowds in the Popemobile. The Bishop of Rome moved along the perimeter of the packed outdoor stadium, which can hold over 50,000 people. As he is wont to do, and despite the pain in his knee, the Pope stood to greet spectators and kiss the babies and children they presented to him.
Among those present were many members of Canada's three Indigenous groups: First Nations, Métis and Inuit. It was especially for them that the choir in attendance sang. Coordinated by Karen Koester and directed by Johanna Dietrich, the group was made up of voices from Edmonton's various parishes. They sang a hymn in Cree, even though none of the musicians are fluent in the language: "This too is a commitment on the path of reconciliation and healing", the organisers said. Not even Kevin Napora, a tenor and member of the Dene First Nation, knew the language, because his mother, a residential school survivor, had lost touch with her roots. They had sung together at the Mass which Pope Saint John Paul II had celebrated in Edmonton in 1984. Now, nearly 40 years later, Napora had the opportunity to use the language of his ancestors thanks to Betty Letendre, an elderly Cree woman and residential school survivor. She taught the singers how to correctly pronounce lyrics in the ancient Cree language. In sum, the "walking together" at the heart of Pope Francis' penitential pilgrimage was brought out even by the music.
The Pope celebrated Mass in Latin and English, and dedicated his homily — which he gave in Spanish — especially to grandparents. Similarly, one of the prayer intentions was offered up for grandparents and the elderly, that they may be appreciated and treated with care, and that they may offer their company to children, counsel to young people and wisdom to adults.
At the end of Mass, Archbishop Richard Smith of Edmonton addressed the Pope with words of gratitude on behalf of the brother Bishops for the Holy Father's "presence among us" and for fulfilling a promise made in October of last year when he announced his desire "to journey to this land on a pilgrimage of healing and reconciliation". The Archbishop presented him with a chalice as a gift. At the end of the celebration, Pope Francis immediately returned to Saint Joseph Seminary. (Gianluca Biccini)